Our workbenches are supplied fully welded and assembled ready for immediate use.
We offer a wide range of accessories including storage, electrical, lighting & IT options, shelving, and a large selection of workbench worktop materials,
For bespoke workbenches, we work with our customers to ensure the right solution to achieve optimal productivity.
We are a trusted UK manufacturer of industrial workplace equipment and workbenches, making robust and durable workbenches ideal for any workshop.
Need Help? Contact us
Experienced UK Manufacturer
All products delivered fully assembled & ready to use
Wide range of options & accessories
Helpful sales & support teams
Workbenches available to Buy Online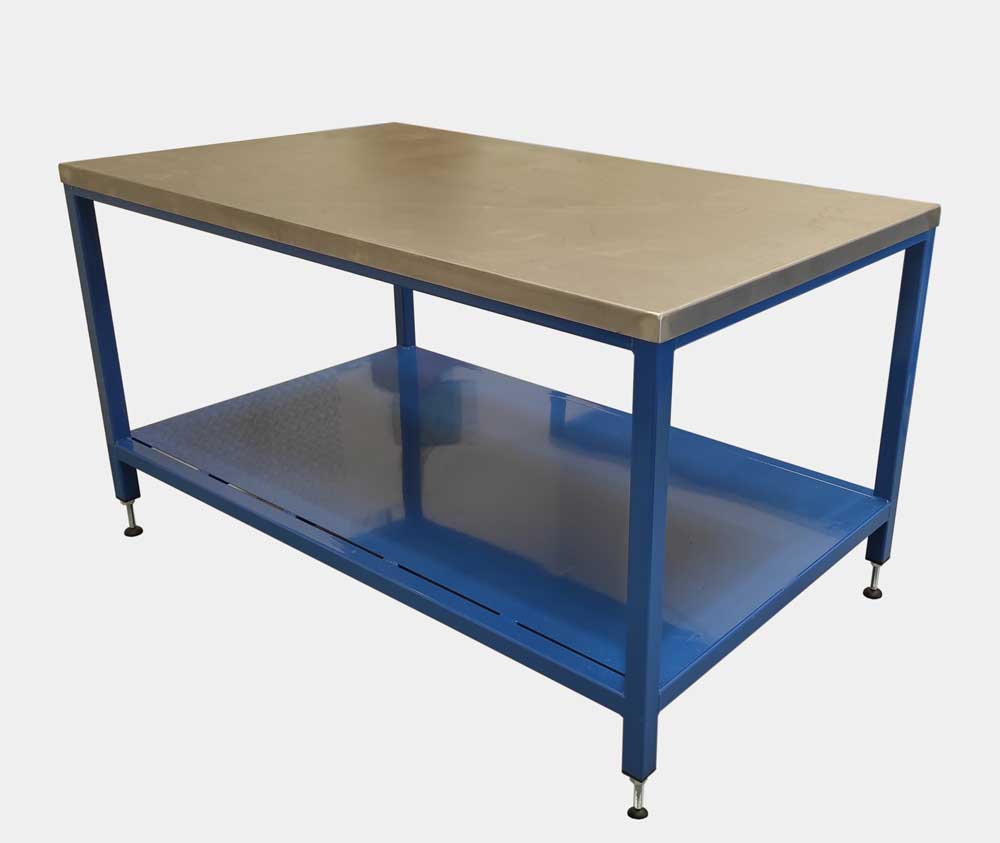 Heavy-duty workbenches made using a fully welded steel box section frame and a durable steel worktop
With their heavy-duty construction, they are suitable for a range of industries including engineering, assembly, production and manufacturing.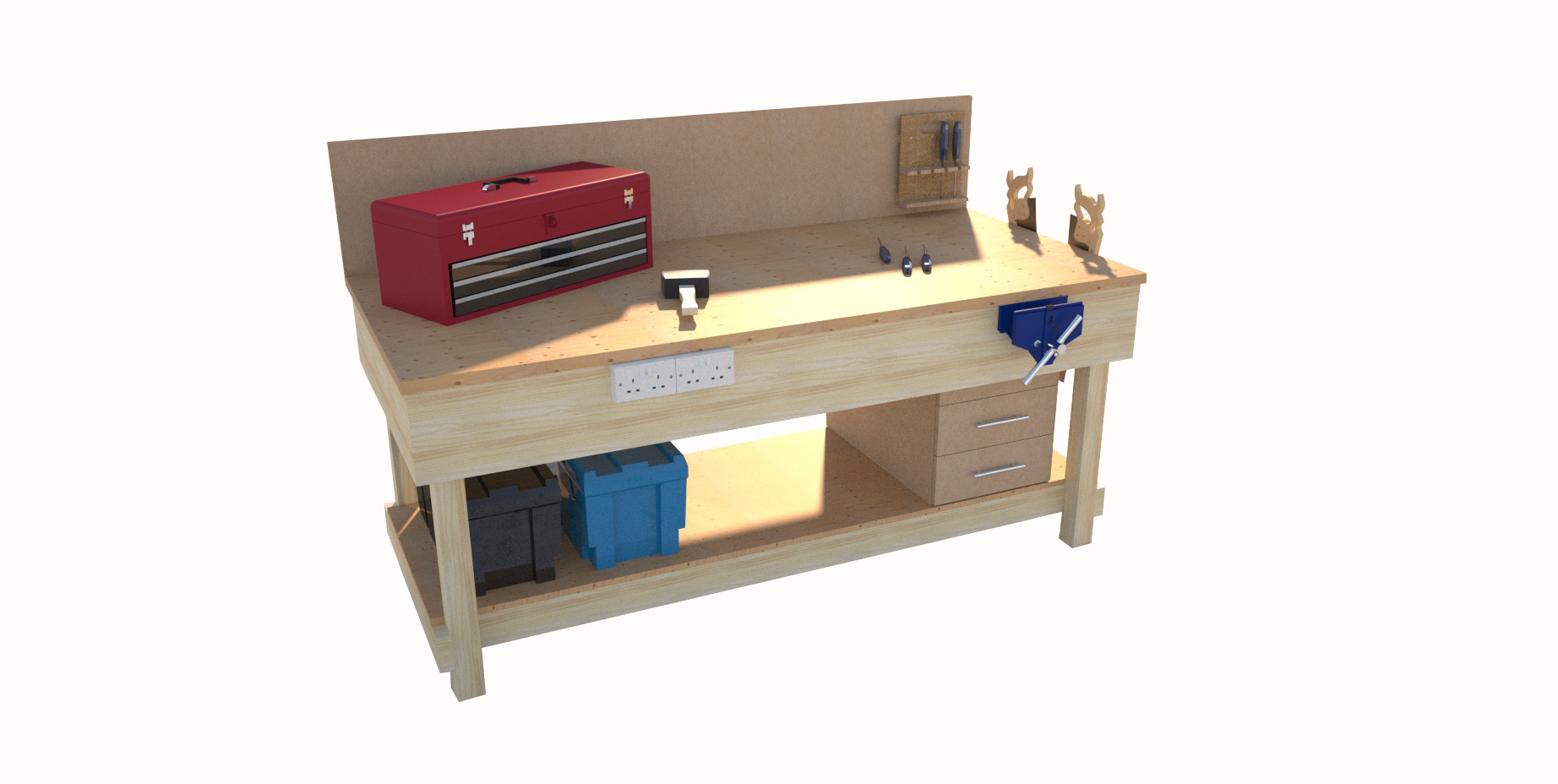 Robust and durable wooden workbenches constructed from solid timber and finished to a high standard
These wooden workbenches are robustly manufactured with solid wood construction and a 30mm MDF or Hardwood worktop. Wooden workbenches are ideal for a wide range of industrial, woodworking and hobby use. These benches are built to last, the robust design is durable and hard-wearing.
With a wide range of options and accessories including under bench storage shelves, cupboards, drawers and tool storage along with options for vices and electrics,
These multi-function workbenches solve the problem of moving from woodwork to metalwork as the benches can easily be adapted for both types of work. The solid wood construction and durable worktop ensure the bench has maximum rigidity for constant use.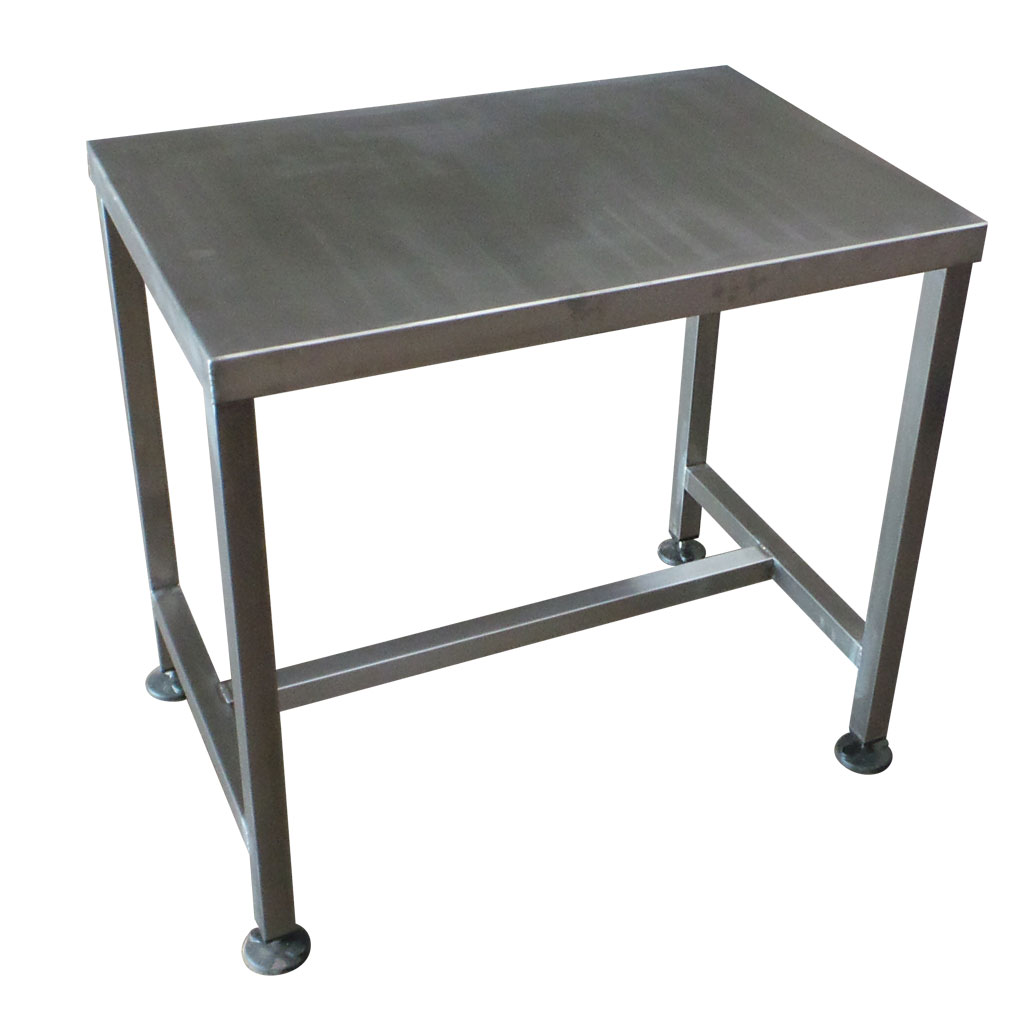 Stainless steel tables are designed to suit specific customer applications and to withstand daily use within even the most arduous industries.
The framework for these stainless steel tables is manufactured from welded 40mm x 40mm stainless steel box section. The worktops can be stainless steel (304), high-density polyethylene or food-grade nylon.
Stainless steel tables are the most common and cost-efficient workspace solution for kitchen food prep areas.  The alloy is resistant to corrosion and bacteria and easily washable, therefore minimizing the risk of cross-contamination.
These premium tables withstand the daily use of the meat and poultry industry including daily wear and tear from bones, blades and heavy carcasses.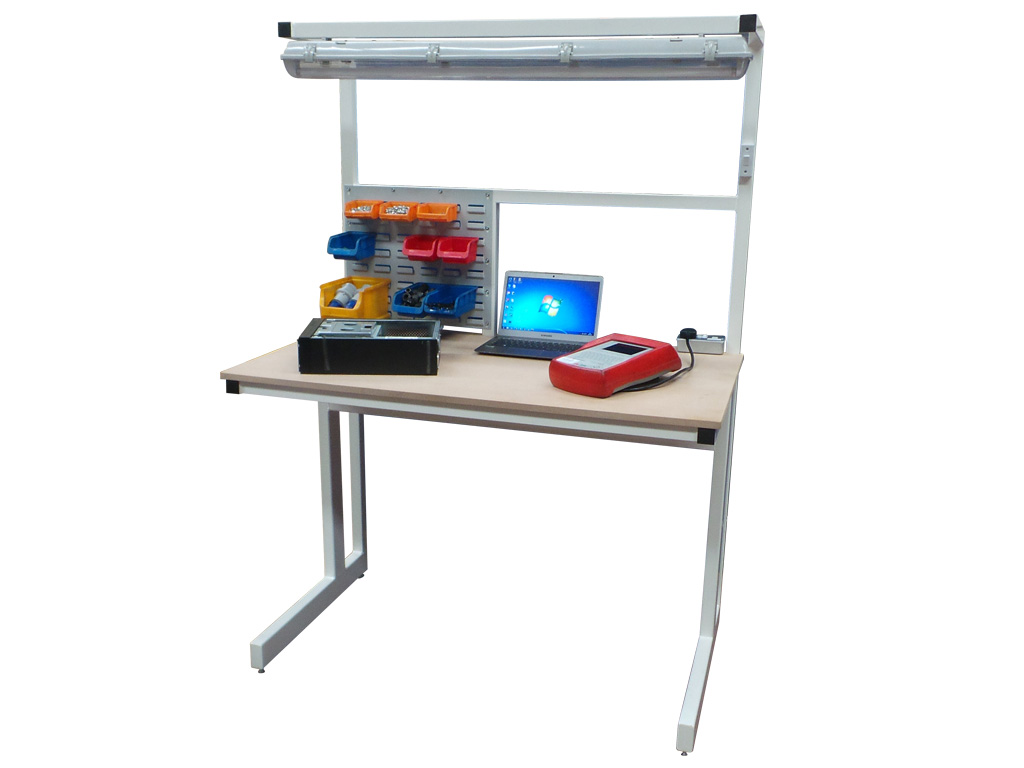 Premium Cantilevered electrical workbenches are a robust workbench providing maximum legroom and storage options below.
With their heavy-duty construction, they are suitable for a range of industries, specifically within the electronics environment for repairing/recycling or within assembly production and light engineering.
We offer a full range of suitable additions to these workbenches including louvre panels, tool racks, additional shelving and storage, lighting rails and electrical sockets.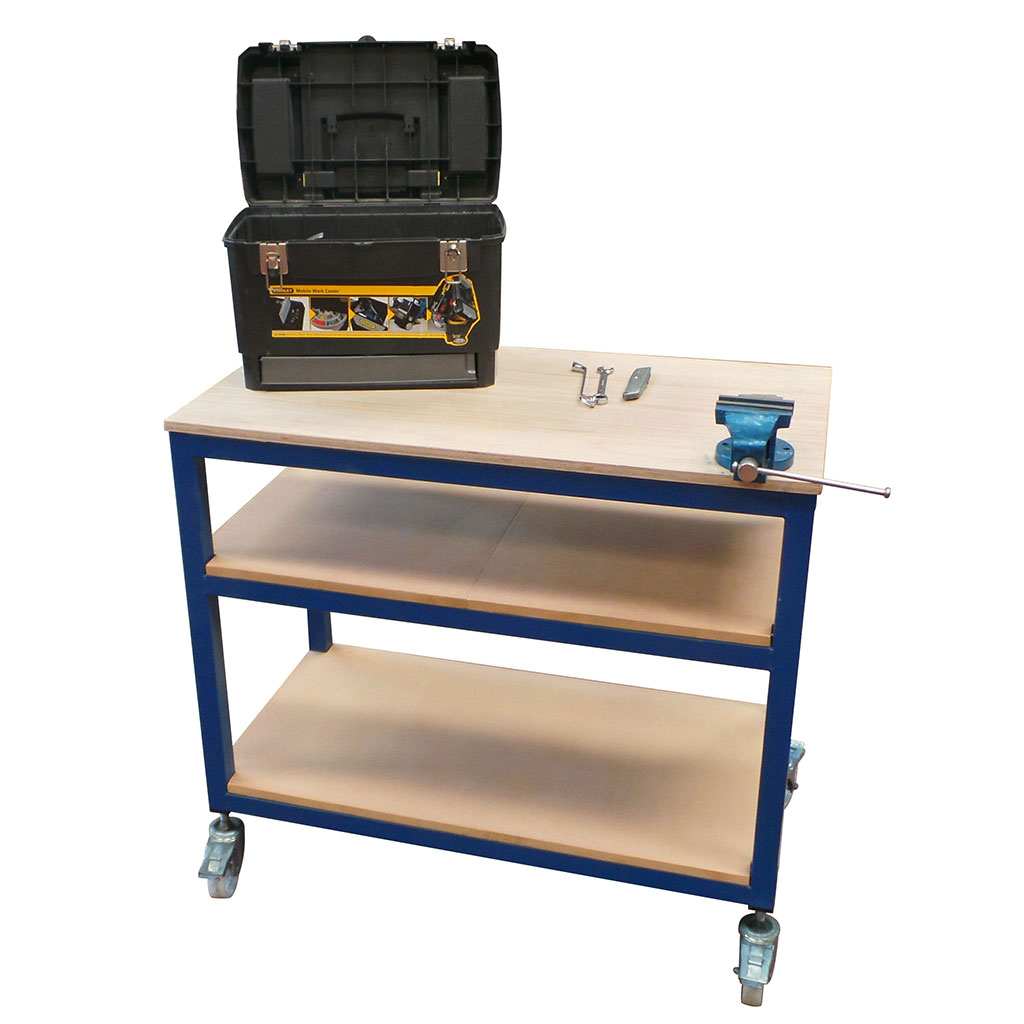 Mobile workstations and trolleys allow for flexibility and convenience in the workplace
The base model includes a durable plywood worktop with a middle and lower 18mm thick MDF shelf.
Because you'll need to move these tables we've included a set of 4 swivel lockable castors.
We can also include other additions such as vices.
Packing & Shipping Workbenches to Buy Online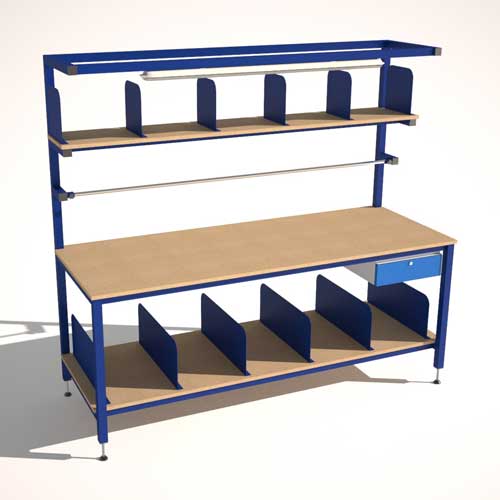 Customisable packing stations that are made to suit your needs
Powder-coated steel frame in your choice of colour
Choose from 12 popular sizes
A wide range of add-ons and accessories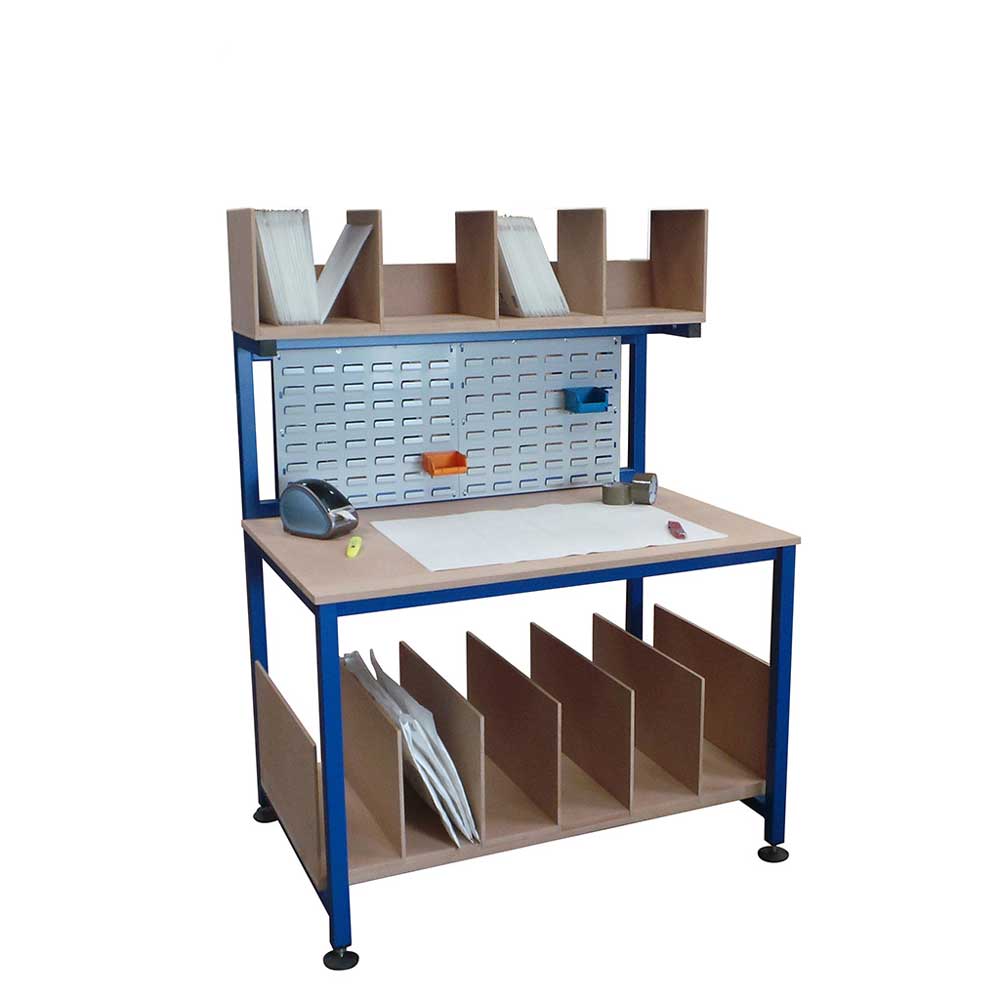 The Packing Station Pro is ideal for small businesses as well as eBay, Amazon and Etsy sellers
Powder-coated steel frame in Blue RAL5010
MDF worktops and shelves with box dividers
Louvre panel for small parts storage
Adjustable feet (+/-50mm) for levelling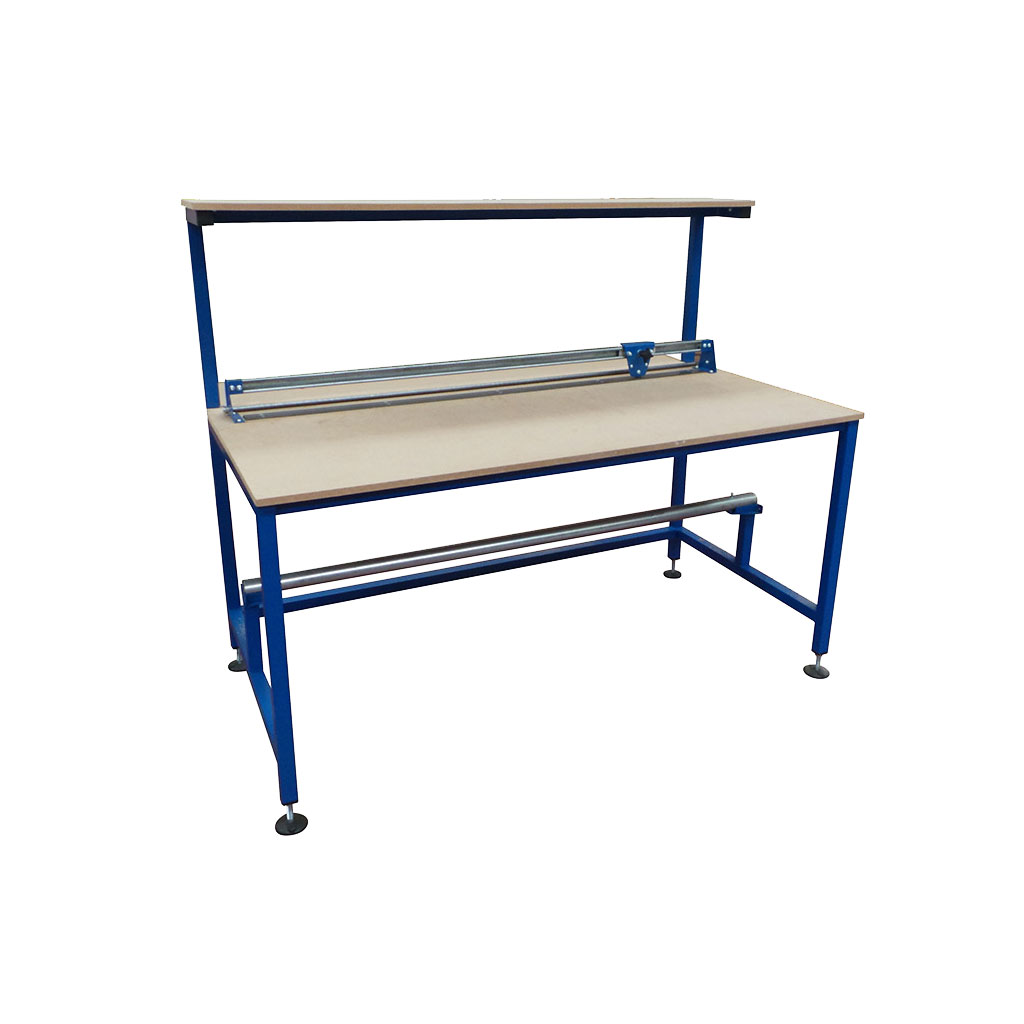 The Easy Cut Packing Bench is available in a range of sizes and comes with a packaging cutter and roll holder
Powder-coated steel frame
MDF worktops as standard with options to upgrade to melamine laminate
The packaging cutter easily cuts bubble wrap, cardboard, and kraft paper
Two versions available - with or without upper shelf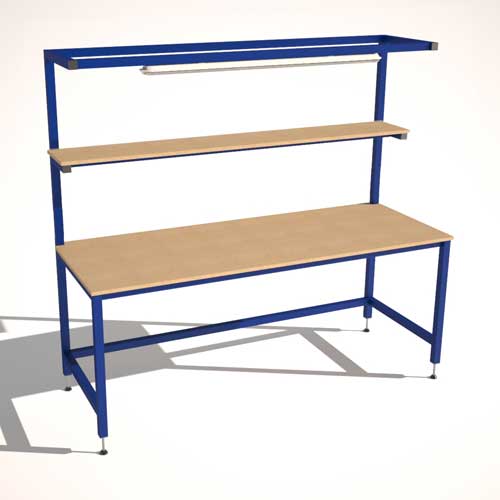 Packing table with upper shelf & lighting rail
Powder-coated steel frame in Blue (RAL5010)
Choose from 12 popular sizes
Handy upper shelf for storage to keep the worktop clear
LED light with light switch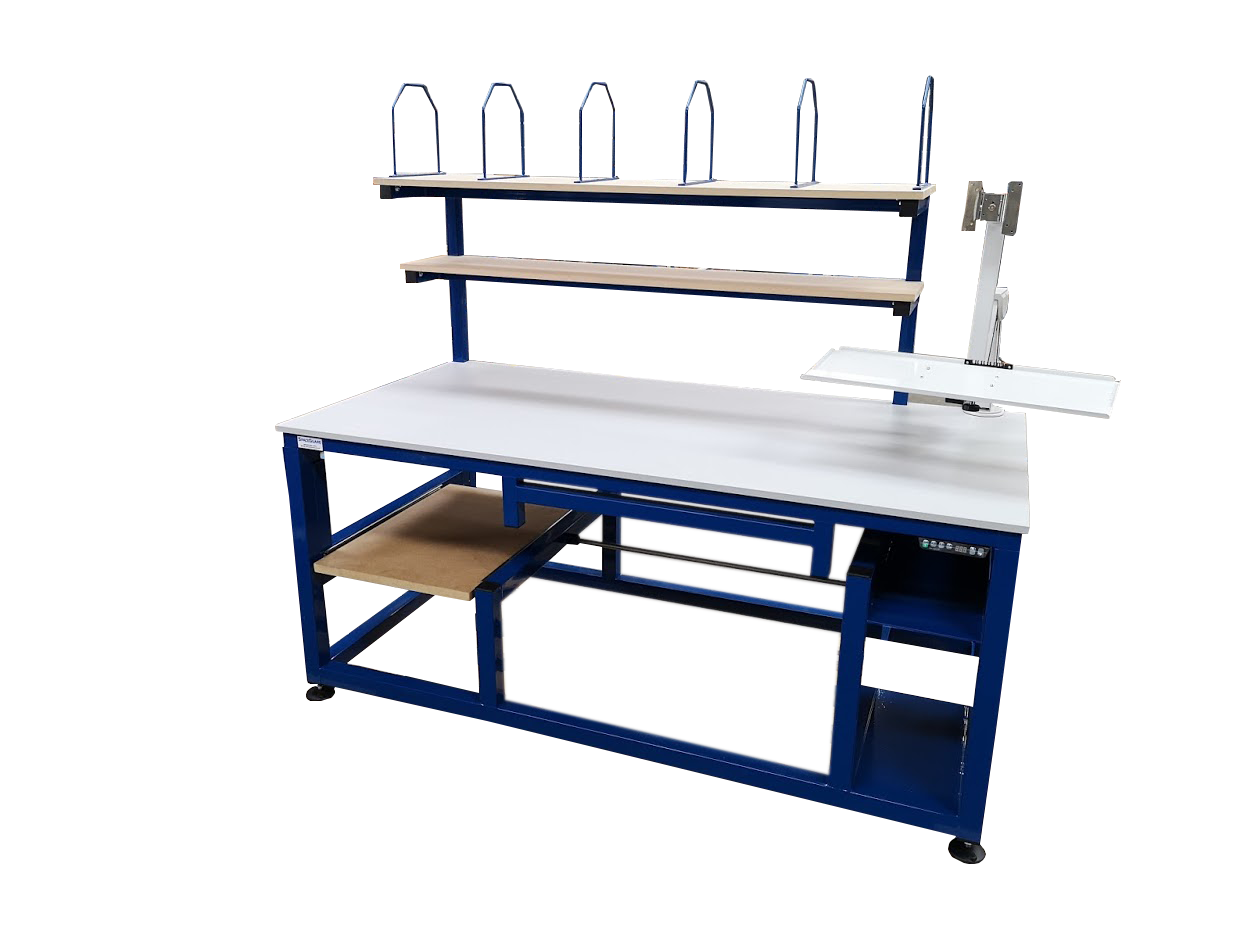 Height Adjustable Workbenches
Change the workbench height to suit multiple users and prevent strains and inujuries
Height adjustable warehouse workbenches are great for applications that involve both standing and sitting.
We offer three types of height adjustment:
Manual by pin
Mechanically adjusted with handle
Electrically adjusted with push button controls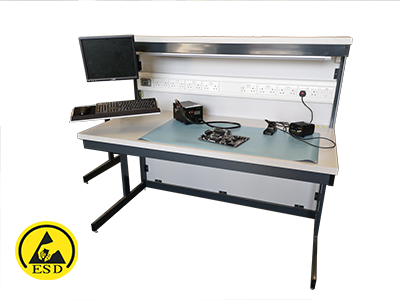 ESD & Anti-Static Workbenches
We manufacture ESD workstations and workbenches to fit ESD and low static criteria.
These are designed for specific uses where static sensitivity is an important factor, our anti-static & ESD workbench range is supplied with static dissipate work surfaces and a comprehensive range of accessories.
To find out more please visit Spaceguard ESD Benches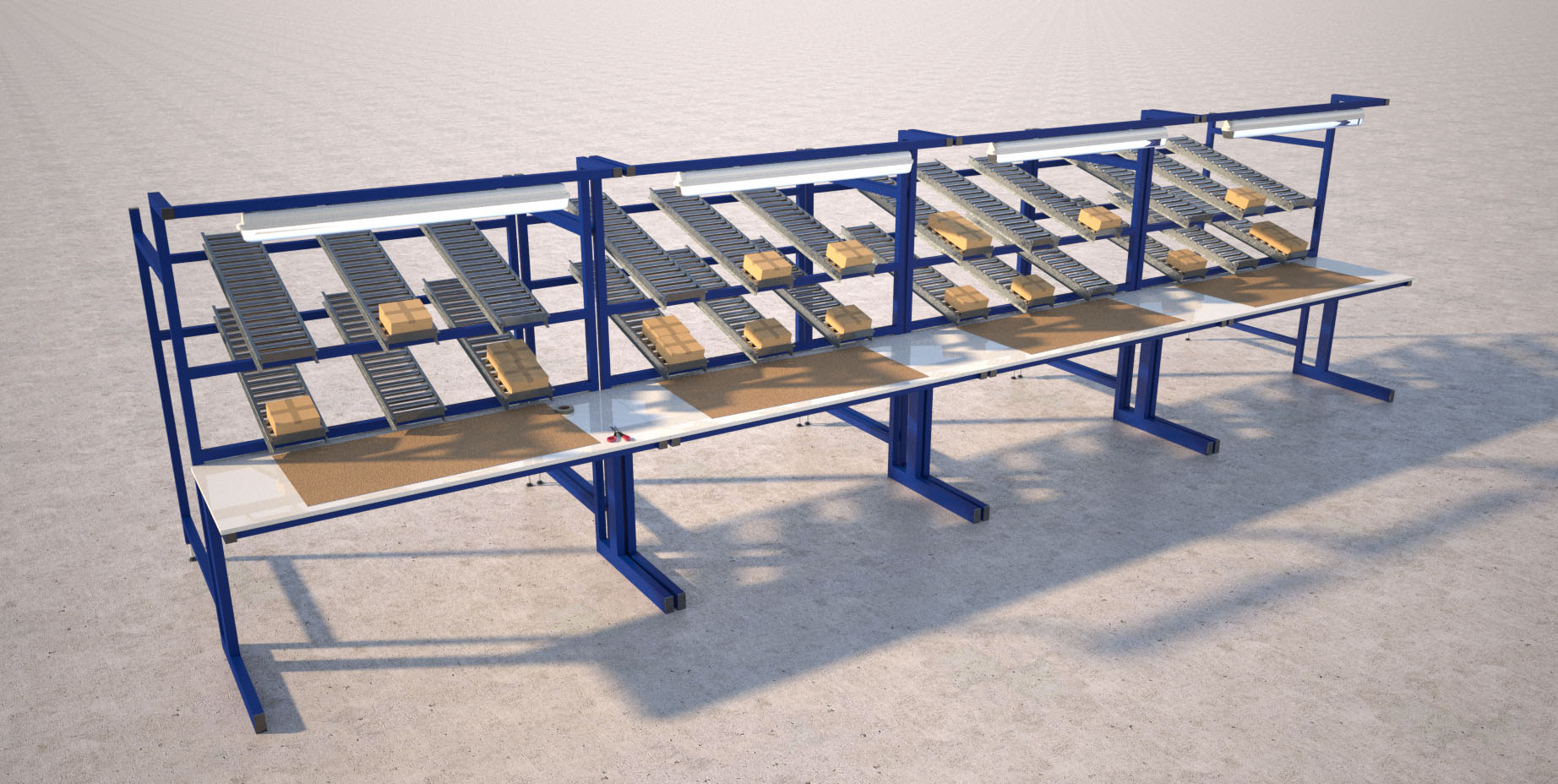 We are able to offer Lean packing and assembly workstations and workbenches, which integrate Lean manufacturing principles for production efficiency.
Shadow boards, gravity-fed roller tracks and belt conveyors can be integrated into the initial design or added later as volumes increase.
Built-in carton and part storage workstations are ideal for order picking and packing efficiency as FIFO carton roller storage racking can be integrated into the workbench.
Flow Racks make it more efficient to organize stock for assembly operations.
We aim to increase your productivity through well designed Industrial workbench products.
Our workstations and workbenches fulfil all the latest manufacturing, production and packing philosophies. In particular, principles like the Five-S Kaizen.
The Five-S (5S) of the workplace – namely, Sort (organise), Straighten (arrange for ease of access), Shine (neatness and cleanliness), Standardize (create a system) and Sustain (exercise discipline).
These can be the driving factor behind the design of your equipment regardless of application.
We also offer a wide range of colour-coded Industrial workbenches, as well as stainless steel, which are ideal for use with the food industry.
Our workstations and workbenches are used by many sectors of business
Packing
Parts collation
Testing
Repair
General assembly
Manufacturing
Food production
Electronics
Medical equipment
Automotive
Component manufacturing
Bespoke workbenches and workstations
Specifically designed and manufactured to suit requirements
Wide range of options and accessories
Workbenches made to any size or shape
We specialise in assembly, testing, and industrial workspace equipment
Built-in electronics, automation, or process aids
3D design & renders provided
Installation service available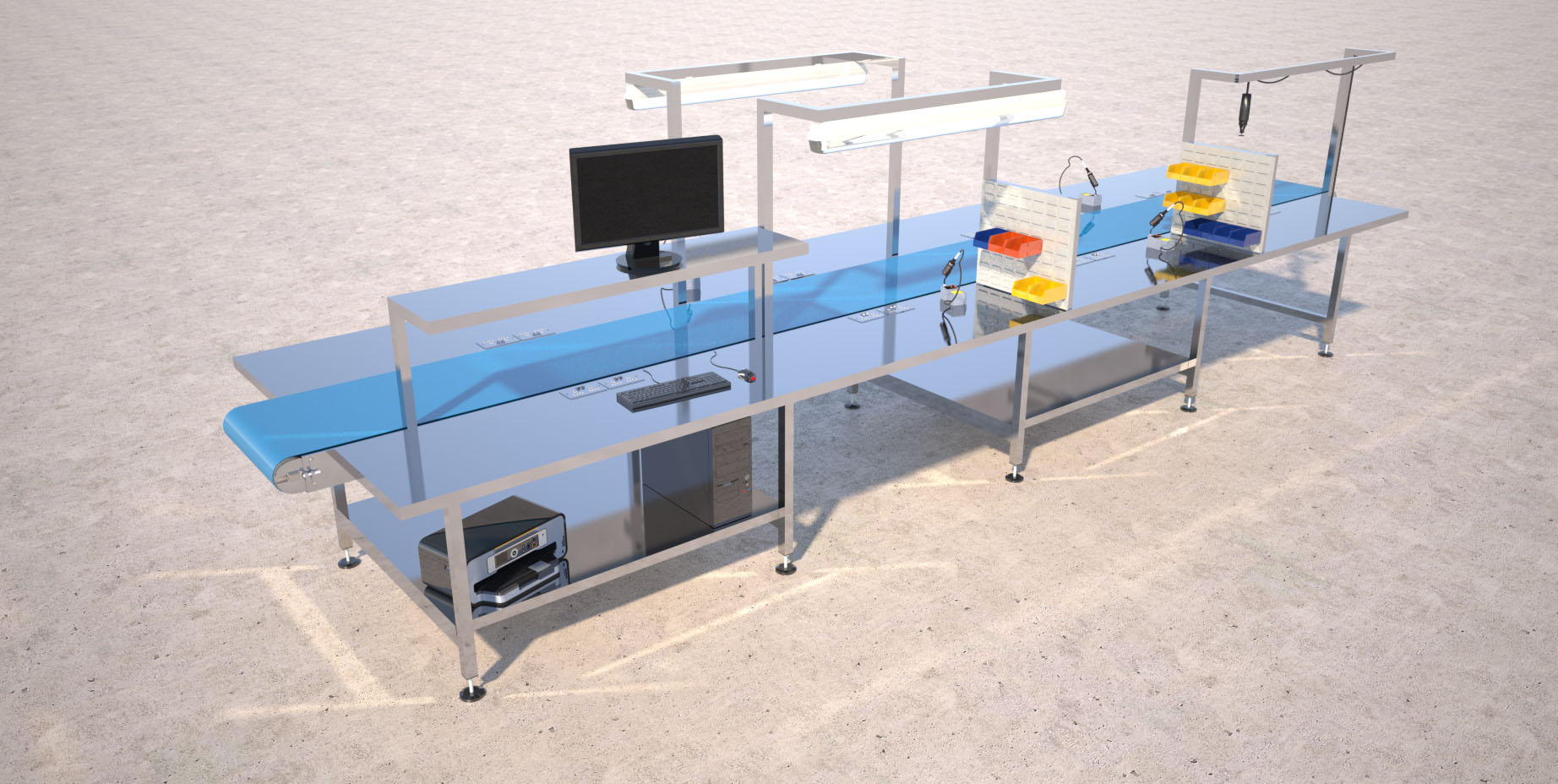 With the extensive range of accessories, workstations can be built to a detailed specification for an exact task, and continually modified to meet changing requirements.
Workplace efficiency is further improved when the workstation, or bench, is constructed integrating ergonomic principles. This way, versatility can be incorporated into the initial build that allows various adjustments to be made. For example, the inclusion of an adjustable height facility.
The durable industrial workstations are available with a wide range of accessories from a standard assembly bench to fully bespoke industrial workbench systems.
For all enquiries please contact us
Phone: 01482 363445
Email: sales@spaceguard.co.uk
Contact Us For A Free Quotation
You might also be interested in...