We manufacture a range of cutting tables suitable for a wide variety of applications.
Whether you require a large work surface for a busy design studio or you are working from home, we will manufacture a cutting table to suit your needs.
All cutting tables are designed and manufactured in house at our Yorkshire based factory.
Our cutting table customers include fashion designers, small businesses crafters, and world leaders in textile product distribution.
Many sizes are available as are additional features, all cutting tables are made to order to your specifications.
Need Help? Contact us
Experienced UK Manufacturer
All products delivered fully assembled & ready to use
Wide range of options & accessories
Helpful sales & support teams
We have been manufacturing large and small cutting tables for over 10 years, so we're happy to share our wealth of experience in providing industrial cutting tables to suit your requirements.
Our cutting table products are made to the highest quality ensuring you receive a table that is durable and long-lasting.
With a wide range of tops available including hardwood, PVC, linoleum, or stainless steel, these industrial cutting tables are also suitable for printing and sign making applications.
Should you require additional storage, these cutting tables can be fitted with drawers and shelves to take equipment, patterns and materials. There is also space underneath the cutting table for box or fabric roll storage.
These cutting tables are ergonomically designed and manufactured to suit your specific application.
Cutting Table Specification
Frame 
Mild steel powder-coated in black as standard
Other colour options are available
Dimensions
To suit customer requirements
Table Surface
Linoleum faced MDF or Plywood, PVC, Hardwood, Stainless Steel
Wide range of linoleum colours available
Additional Options
Lower rails, lower shelves, roll holders, troughs, cutters, castors, stools, bins
Assembly
Smaller tables delivered fully assembled
Larger tables can be made flat pack for self-assembly or installation by our team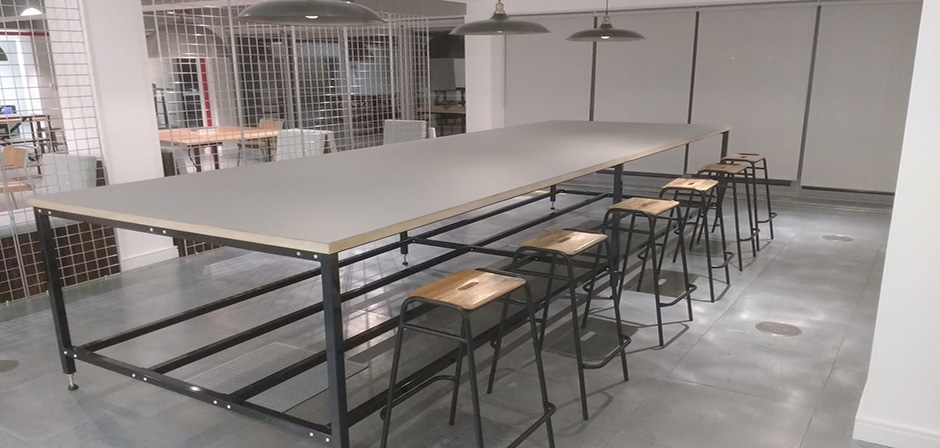 Being able to provide a cutting for this leading fashion business was exciting and we couldn't be more proud of the finished result with matching bar stools, which compliments the table well, this table now lives proudly on the 7th floor in a central London.
The fabric cutting table measures: 4,800mm x 1,600mm x 1,000mm. It features welded mild steel & powder coated Black frames and is finished with a linoleum-faced worktop top in Ash 4132. It also comes complete with 2 additional support bars fitted for under-bench roll storage. The table was installed out of working hours on-site ready for immediate use.
Grey Linoleum top Cutting Table with Anthracite Grey Frame, Measures L2430mm x W1100mm x H920mm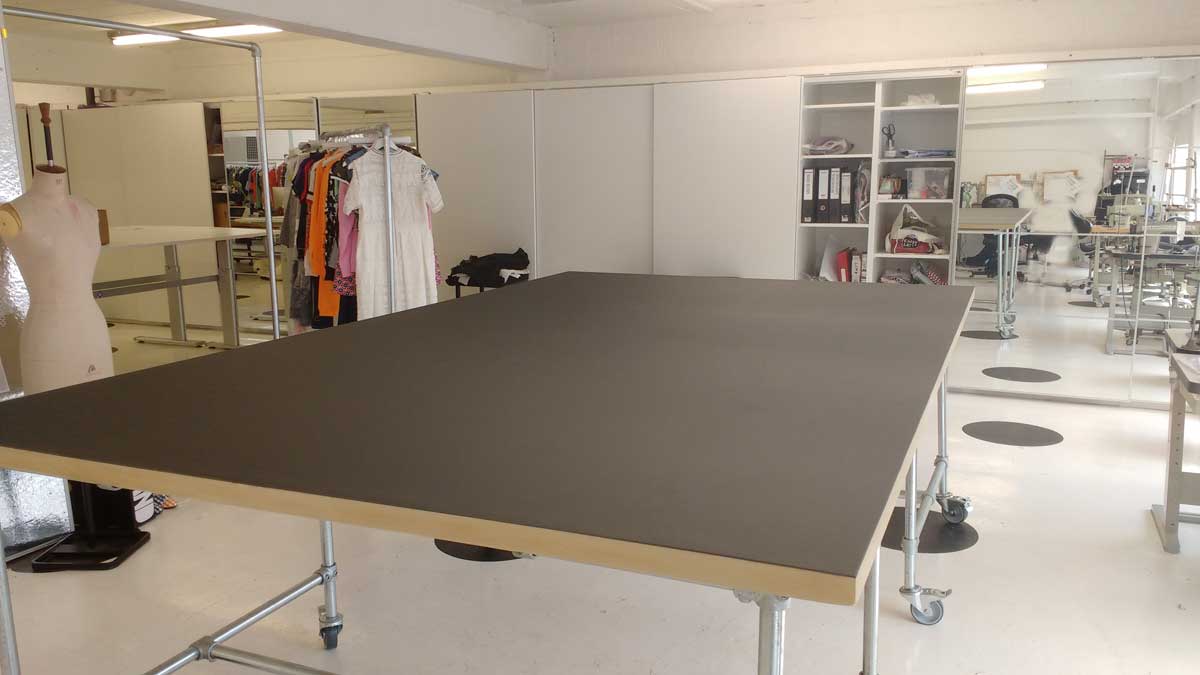 Cutting Table with Linoleum-faced MDF worktop in Black 3000mm x 1800mm x 900mm
Cutting Table Troughs & Roll Holders
We can manufacture and supply a range of fabric guide rollers, roll holders and troughs to suit your requirements.
These make dispensing and cutting fabric much more easy and more efficient as the rollers take the weight of the fabric.
Supplied to well and truly established classical tweed fabric designer, renowned for over 45 years for its quality, innovation and reliability
Table dimensions: 10,300mm x 1700mm x 930mm (50mm +/-)
Table length including trough: 10,900mm
Worktop: Linoleum faced board in Ash Grey
Construction: Welded mild steel finished in epoxy powder coated Grey RAL 7040
Additional features: 2 x lower MDF shelves, toughens fabric roll holder, 2 x fabric guide rollers at both ends
Case Study: Furniture Manufacturer Cutting Table
The customer in this case was a furniture manufacturer who takes great pride in their work providing furniture for a variety of living spaces, ranging from contemporary to traditional. Their products are supplied around the world. Their aim is to provide well-designed quality furniture for today's buyers at an affordable price.
Our aim for this project was to assist in their production reducing and assisting in handling time of their premium fabrics.
Cutting Table Features
Welded mild steel frame, powder-coated in grey
38mm MDF worktop faced with durable grey linoleum
Tape measure down both sides of the work surface
Steel bars to assist in straight cutting
Fabric guide roller
An infeed roller set for 350mm diameter rolls
Additional steel legs to support 25kg rolls of fabric
This table was also installed on-site by our installation team.
Many sizes are available as are additional features, all our tables are made to order to your specifications.
Contact Us For A Free Quotation