Mini roller tracks are ideal for the live storage or transportation of small unit loads, including boxes, totes and boards
Mini roller tracks can be incorporated into a number of our products to boost their functionality. We use mini roller tracks within industrial storage and shelving to create carton flow storage racking.
We also build rollers into workstations to enhance productivity and improve ergonomics.
If you're looking for mini-roller tracking then please take a look at the selection below, or contact us to find out about the full range of options and accessories.
We manufacture bespoke conveyors
For further customization please contact our sales team as we can manufacture to meet your exact requirements.
Products we manufacture featuring mini roller tracks
Bench-mounted mini roller tracks to assist with product assembly or package build lines
We manufacture a range of lean process benches where the mini roller track is fixed on top of the bench or a more bespoke option where the roller track is sunk into the bench worktop.
These units bring large time and manual handling savings on the product or package assembly lines.
Mini roller track carton live storage racking
Mini roller carton large storage is ideal for packing areas, allowing the picker (order collator) and packer to spend up to 85% of their time doing productive work. Working on a first-in-first-out basis, the rack is loaded from one side and unloaded from the other. There is also the option to load and unload from the same side. These racks cost a little more than conventional shelving however the payback comes from the improved speed of the restocking, picking and packing, along with savings in manual handling.
These racks soon give year-on-year savings.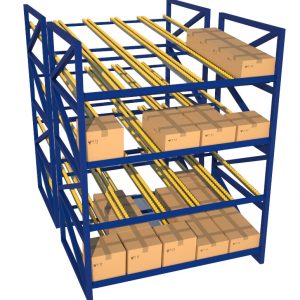 Frequently Asked Questions