Carton live storage roller racks are used for storing cartons and totes on a first in first out basis
These units are ideal for picking and packing areas along with parts for assembly areas. From small boxes and totes via different gravity roller tracks, small wheeled tracks built in bespoke units. They are manufactured from the ground up for new systems or can be integrated into existing installations. From small packing warehouses as standalone solutions to improve picking & packing efficiency or within giant distribution centres such as online retailers to make most of the available warehouse space
For all enquiries please contact our sales team
Phone: 01482 363445
Email: sales@spaceguard.co.uk
How carton live storage systems work
Ideal for picking, packing and product assembly areas - They are loaded from one end and unloaded from the other ensuring the operative has a supply of goods at all times.
The concept behind these systems relies on using different types of gravity tracks positioned within a racking system at a slight decline to allow various products to move freely within the system increasing warehouse efficiency
The boxes are positioned in individual lines depending on the size of your product. The front box is positioned to allow packers easy access to the contents and for removal. Removing the front box allows gravity to take over and pushes the rest of the line towards the front and allows more rear product loading.
No Carton live storage system is the same
At Spaceguard we don't offer a one fit carton flow storage racks solution, we take the time to learn about your business and products and take into considerations other factors when designing your bespoke racking system such as: The shape/size and weight of the product The speed of throughput Whether products are handled manually or by machinery The dimensions of the building (Heights of ceilings and available floor space) We can build specific widths & heights, add as many shelves as required and track widths or pitches to suit your product (when required) Our flow rack systems are usually manufactured in two variants depending on the product weight and dimensions. Normally our shelves are set at one specific angle throughout to give the optimal decline for your products to move, however we can also utilize knuckled shelves which can be used to increase packers visibility and access to the front package.
Live storage Rack Variations
Our flow rack systems will utilize one of the 3 gravity products below. Skate Wheel Light duty conveyor system which is suitable for larger products, large gaps between individual skate rollers keep the costs down making this an economical solution Conveyor Rollers Heaviest duty version available which is suitable for larger products and containers as well as products with uneven surfaces. Alllowing many different shapes products to flow due to no gaps providing the rollers sit at a tight enough pitch Micro Tracks Most commonly used roller track for these systems, ideal for small containers, boxes and totes. Usually installed in paired tracks at a pitch the width of the product to allow the smoothest carton flow. We also have these lengths to buy to install yourself available here in 3m lengths.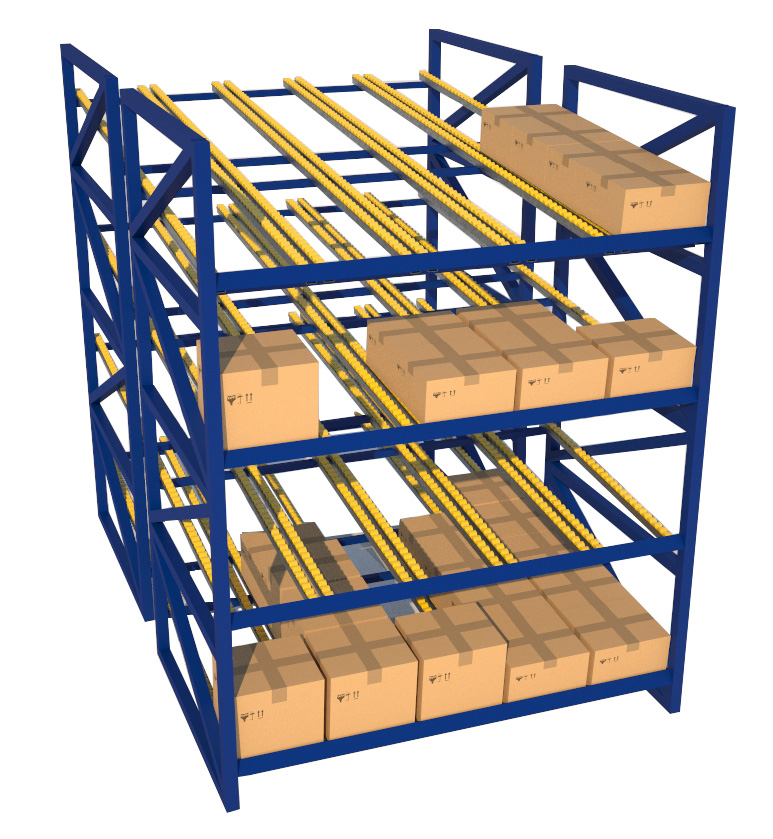 Spaceguard are an ideal partner to manufacture robust fully assembled ready for work packing benches and stations to your specifications. Including product automation products such as belt and roller conveyors, all from our UK based manufacturing site.