Carton Live Storage Rack units are ideal for picking and packing areas along with organising parts for assembly areas.
Carton Live Storage Racks are manufactured from the ground up for new systems or can be integrated into existing installations.
They are commonly used in small packing warehouses as standalone solutions to improve picking & packing efficiency, or within giant distribution centres to help online retailers to make most of the available warehouse space.
All carton storage and flow racks are manufactured to order to suit your size and space requirements.
Need Help? Contact us
Experienced UK Manufacturer
All products delivered fully assembled & ready to use
Wide range of options & accessories
Helpful sales & support teams
How carton live storage systems work
Carton storage racks are ideal for picking, packing and product assembly areas. They are loaded from one end and unloaded from the other ensuring the operative has a supply of goods at all times.
The concept behind these systems relies on using different types of gravity tracks positioned within a racking system at a slight decline to allow various products to move freely within the system increasing warehouse efficiency
The boxes are positioned in individual lines depending on the size of your product. The front box is positioned to allow packers easy access to the contents and for removal. Removing the front box allows gravity to take over and pushes the rest of the line towards the front and allows more rear product loading.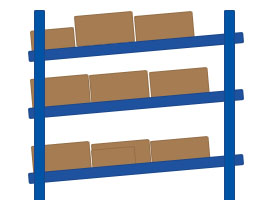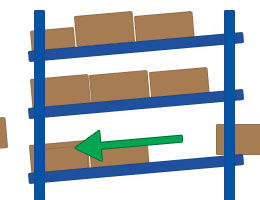 Live storage Rack Variations
We manufacture fully bespoke carton live storage solutions
Contact Us For A Free Quotation