All benches are manufactured in the UK and have a welded steel construction, with a durable powder-coated paint finish. They arrive with you fully assembled and ready for work from our Hull based factory.
We are able to supply single standard benches or fully bespoke warehouse packing bench systems including automation.
Our industrial packing benches are available with a wide choice of work surfaces along with a large number of accessories, including packing aids and IT connectivity.
As a flexible UK manufacturer, we are able to meet even the most urgent of delivery lead times.
Need Help? Contact us
Experienced UK Manufacturer
All products delivered fully assembled & ready to use
Wide range of options & accessories
Helpful sales & support teams
Fast Ship
Items marked as fast ship will arrive in 7-10 working days
We are a UK manufacturer of Packing Station solutions for E-commerce
Having worked with many online retailers for their packing bench and despatch systems we fully understand the importance of speed and accuracy in the packing area.
The eCommerce sector is highly unpredictable with peaks and troughs in volumes, which is why we offer a tailored service to help you get the best out of your bespoke equipment. Good ergonomic e-commerce packing bench design is of the utmost importance, as the product has to be packed within the shortest possible time to the highest possible standard.
One of the services we offer is to attend your site to assess your individual needs. Where necessary we can monitor on-site or remotely to conduct time and motion studies, look at methods used, and look at how products are packed.
Then our design team can create bespoke packing bench designs to suit your operation. These are then manufactured in our factory and delivered to you fully assembled or installed by our team.
Along with the manufacture of eCommerce packing benches, we manufacture and supply conveyor systems, robust shelving, and first in first out carton roller storage racks.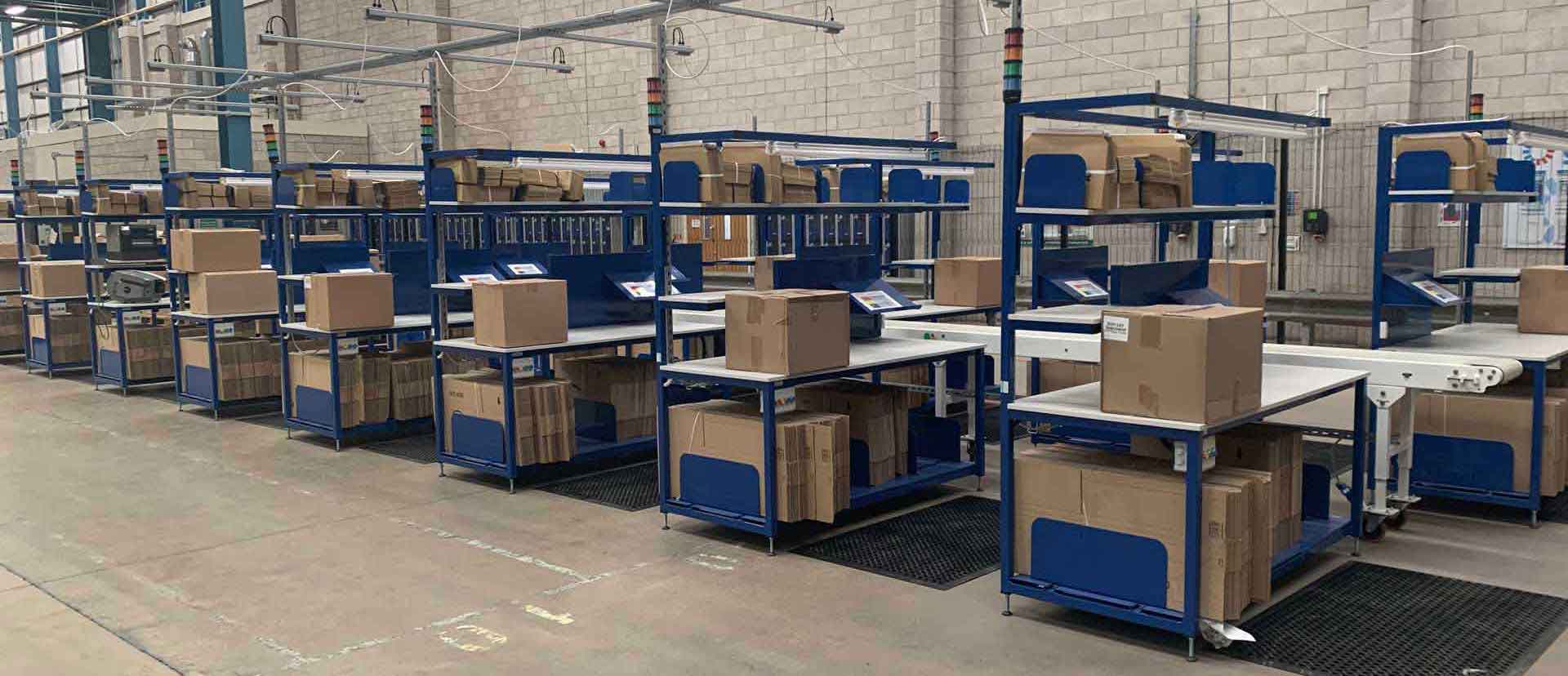 Customisable Packing Stations are designed to improve packing productivity and ergonomic position
Packing Stations are a crucial addition to any packhouse, distribution centre or online retail for packing and despatch.
Each packing station is fully welded using a mild steel box section frame finished with a durable powder-coated finish.
They are delivered fully assembled and ready for immediate use with no further assembly required.
To order custom warehouse packing benches please contact our helpful sales team.
Each packing bench is made to order to suit your specification, this means there is a lead time of several weeks depending on the size or complexity of your packing table design.
We will require some information to be able to offer you a quotation, if you have answers to the following questions please send those across to us.
What size packing benches do you require?
Do you have a preferred worktop material?
Which accessories would you like?
Do you need us to design around your existing equipment? (eg Shelves to fit particular models of printers)
Is there a frame or worktop colour you would like?
Can you provide a sketch/drawing/photo to explain your requirements?
What power / networking sockets are required?
Are you using your packing benches alongside a conveyor system?
Do you require any ball or roller transfers to be built into or alongside the packing bench?
Do you require on-site installation?
If you are not sure then we have a number of helpful guides and articles to help you decide on what is the right packing table specification to suit your needs.
Accessories available
Upper & Lower shelves
Printer shelves
Keyboard trays or shelves
Monitor brackets, mounts or posts
Weigh Scales
Packaging cutters
Roll bars / packaging roll holders
Box dividers
Cupboard & Drawers
Electrical sockets & lighting rails
Louvre panels & pegboards
Castors/wheels
Roller / ball transfers
Please contact sales with your questions, or visit our Spaceguard packing benches page for more examples of what we have manufactured for our customers.
Customer Gallery - Warehouse Packing Benches
Frequently Asked Questions
Contact Us For A Free Quotation