Description
Keyboard bridge/converter for use with weigh scales
This hardware option converts the print function from RS232 outputs to Keyboard inputs on USB.
Highlights
Converts RS232 serial to the USB keyboard.
Optional USB power on pin 9 of RS232 end.
Available in English, German and French keyboard emulations.
Eliminates the need to install any device driver or keyboard redirector software. Simply plug it in and any serial input will become a keyboard input
Draws power from the USB port. No external power source is required.
Extended Keyboard controls allow the serial device to control PC functions by sending upper ASCII characters into the serial end of the cable. For example, sending a character 181 into the serial end of the cable, will invoke function key F1 on the HID keyboard end and so on.
The limited bidirectional capability allows the use of certain hotkeys on the host keyboard to send a command string to the RS232 device.
Cable Length 74in (1880 mm)
Certifications & Compliance: FCC, ICS, CE and RoHS.
Applications
Connects any serial device to any operating system as a Keyboard. It works on Windows and MAC OS, Linux and Android.
Converts RS232 port output characters of Scales, Barcode readers, RFID readers, Payment Terminals and etc. to keyboard strokes
Ideal for companies with software policies – This unit requires no additional software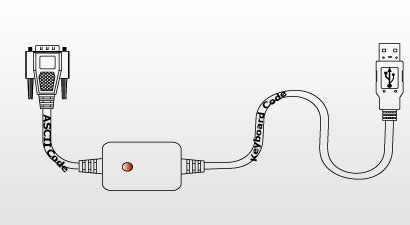 Delivery Information
All products are collected from our East Yorkshire factory before being delivered to you
Please speak to a member of our team if you have any questions regarding deliveries.
Phone: 01482 363445
Email: sales@spaceguard.co.uk
Not exactly what you need?
We are a UK workbench manufacturer – this allows us to make fully bespoke products to suit your exact requirements.
Are you looking for something a little different such as:
Height adjustable workbenches
Mobile workbenches
Workshop Cupboards & Storage Cabinets
Benches with integrated weighing scales
Please use the 'Ask a Question' form if you have any questions about this product or would like a bespoke product quotation.