Packing tables, benches and workstations manufactured in the UK to suit a wide range of industrial uses.
Packing tables and benches from Spaceguard will arrive welded, powder coated, and fully assembled ready for immediate use, with a range of helpful accessories available.
With a minimum load rating of 300kg, our benches are of robust construction and perfectly suited to demanding environments.
Packing tables are an essential piece of equipment for fast and efficient order packing, receiving, and for sorting returned items. They're commonly found in warehouses, including 3PL's and return centres.
For all enquiries please contact our sales team
Phone: 01482 363445
Email: sales@spaceguard.co.uk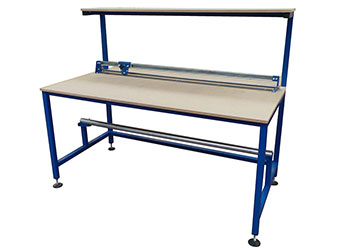 Good Product quality, quick lead times (given the current economic climate) and reasonable pricing. Very helpful in understanding and contributing to the specification of the solution.
We have used SpaceGuard on several occasions for workbenches and tables for our company - Every time we have been delighted the products and service. I can thoroughly recommend them. It's been great to be able to have custom built/designed benches to work to our requirements.
Fantastic company to work with, gave them specifications for custom packing desks, all arrived in good time and any adjustments that we needed to make after, were all accommodated and dealt with efficiently. Cannot recommend them enough.
I've worked with Spaceguard on a couple of occasions now and their work is to the highest standard. They are honest and trustworthy and nothing is too much trouble.