Packing tables, benches and workstations manufactured in the UK to suit a wide range of industrial uses.
Packing tables and benches from Spaceguard will arrive welded, powder coated, and fully assembled ready for immediate use, with a range of helpful accessories available. With a minimum load rating of 300kg, our benches are of robust construction and perfectly suited to demanding environments.
Packing tables are an essential piece of equipment for fast and efficient order packing, receiving, and for sorting returned items. They're commonly found in warehouses, including 3PL's and return centres.
We are the leading provider of ecommerce order picking, processing and packing equipment, all of which being ergonomically designed for user safety and comfort. Our customers benefit from packing stations that suit their needs. With our fully bespoke packing table design service, we can manufacture packing benches to your exact specification in dimensions, materials, and accessories.
As we are a UK manufacturer, we're available to support you throughout the design or customisation phase. Our experienced team is always happy to offer suggestions to improve your packing process.
We make all products in our East Yorkshire factory, many of which are made to order.
Please see our galleries to find out what we have made for previous customers, or scroll through the page to see a selection of our standard products.
For all enquiries please contact our sales team
Phone: 01482 363445
Email: sales@spaceguard.co.uk
Packing Table Specifications
Frame Detail: Welded Mild Steel
Frame Finish: Powder Coated in RAL 5010 Blue*
Table Top: 18mm Thick MDF*
Assembly: Supplied fully assembled
Support Detail: Welded 'H' Section (+/-50mm)
*Other options available, please contact us for details.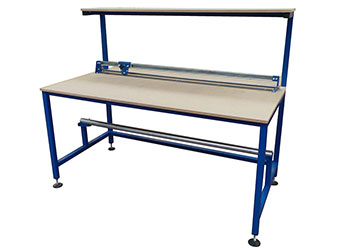 Order Packing tables and assembly benches online
Please also note that these are just a selection of packing tables we offer, if you require an alternative size then please contact our sales team who will be more than happy to assist you.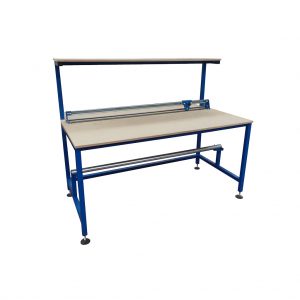 About our ergonomic packing stations
Our team of skilled designers work closely with customers to ensure all packing table designs are user friendly, and suited to the tasks at hand.
Through the inclusion of process aids we transform a simple table into a functional workstation, with adjustable height varieties to suit packers who wish to sit, or stand.
Adjustable shelves and monitor brackets help keep packaging close at hand, minimising risks of overreaching or eye strain.
To further minimise eye strain, there is an additional benefit of a lighting rail option. This is especially useful in warehouse packing environments where poor lighting can cause processing mistakes.
Frequently Asked Questions
We use our trusted delivery partners to collect your bench from our factory and have it delivered to you.
When you place an order we will let you know the estimated delivery date in the order confirmation. You will then also receive an update via phone or email with the allotted delivery date and time once this has been fully confirmed.
Depending on your order you may require the use of a tail lift, forklift or similar for unloading or placement.
If you have any special requirements for delivery or access restrictions please let our team know beforehand.