Spaceguard is a UK manufacturer of medium, heavy duty and bespoke packing stations designed to improve packing productivity and ergonomic position
Packing Stations are a crucial addition to any packhouse, distribution centre or online retail for packing and despatch.
With this in mind Spaceguard packing stations are robust and manufactured to order to suit your specific requirements.
Our product are finished with a durable powder coated finished and welded from mild steel box section frame.
In the first place all our packing stations are supplied fully welded and assembled.  Ready for immediate use with no further assembly required.
For the purpose of immediate usage all our tables come fitted with a durable 18mm thick MDF worktop,(or other workbench worktops are available.) With this in mind they are suitable for loads of up to 300kg, (larger capacity tables available on request.)
Spaceguard offer a wider range of workbench tops to suit your product.
For all enquiries please contact our sales team
Phone: 01482 363445
Email: sales@spaceguard.co.uk
Specification
Frame Detail: Welded Mild Steel or stainless steel Box section
Frame Finish: Durable powder coated
Table Top: To suit specific customer needs
Assembly: Fully Welded and assembled "ready to use"
Load Rating: 300kg
Packing Station for online ordering
Additionally Spaceguard works closely with our customer's own sketches, and by then using 3D design.
You can see from the slides below that we bring your unique ideas to life prior to manufacture ensuring you get the packing station that suits your needs
Configuring an Efficient Packing Station.
Designing a packing station to suit you specific operation, workflow, and processes brings real productivity savings.
While most packaging tables are similar in function. Every packaging station is unique to its own set of issues. Sometime even within the same companies packing and despatch departments, the workstations vary because of the scope of the functions required.
Suggestions to get the best design.
1) Write a description of what function you need each packing station or workbench to perform.
2) Write a list of packaging you require to use.
3) Write a list of features you require from your packing station.
4) Write a list of the IT equipment etc you require for each station.
5) Determine a workflow pattern for the packing table.
6) How are you going to get products on and off the packing station? (materials handling conveyors)
7) Create a plan for integrating the packaging workstation and the material handling to give best workflow. With minimum product movement.
8) Speak to our sales team. Who can help you design, manufacture and install the packing stations and materials handling equipment to suit your business
It is a common error to purchase a standard packing station or focus the packing workstation design solely around the storage of supplies. Maximized efficiency comes from integration of the pack station into the company's IT order fulfillment and material handling system.
Looking at the order fulfilment plan. From the point of view of the packaging function, creates additional efficiency and productivity by reducing extra movements, eliminating duplicated workloads. And then reducing handling of the product fewer times. By incorporating all aspects not only improves productivity it also improves package quality.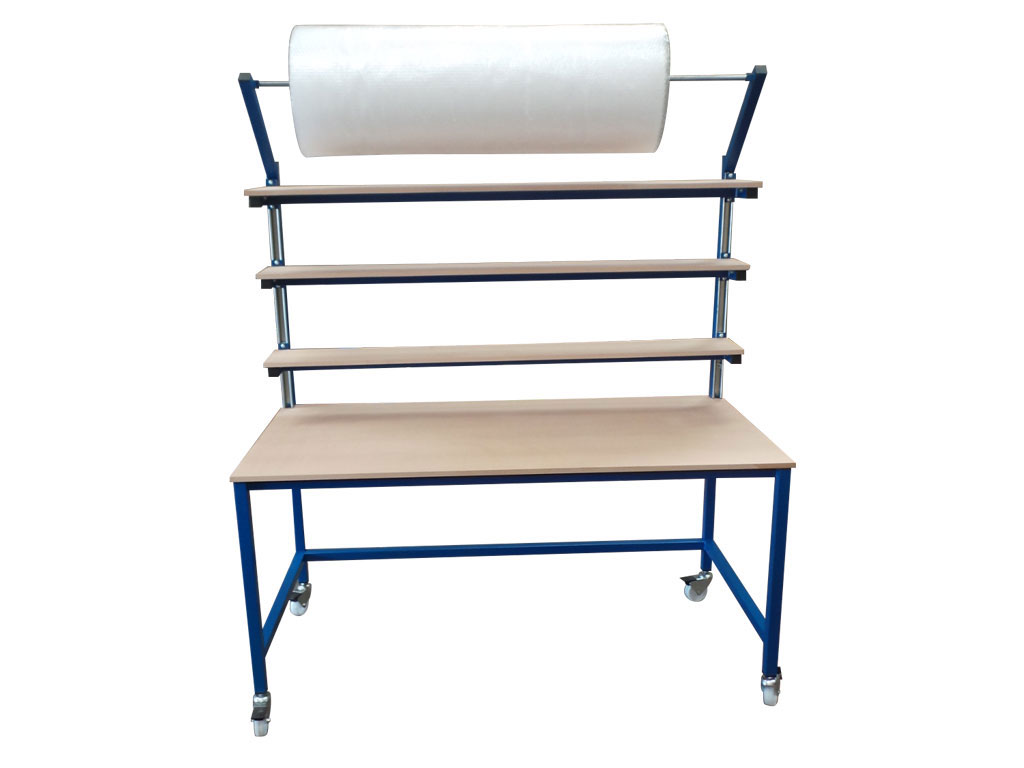 Packing station operational overview
Many packing benches and workstations have different needs. Each workbench usage is as unique as your company.  From packing, part collation and packing, carton addressing, quality control or team leader. Each function requires different layouts, equipment and IT needs.  so In the first place a good design is vital to get your process right.
Workbench workflow
Defining the operational workflow with give you an idea of the areas of concern. So consideration can be made for all the functions required. This can then be laid out into a ergonomic working model. "A well designed workspace will eliminate additional handling, improve quality and improve productivity. Not to mention having provision for IT equipment"
Generally the most efficient packing is a straight line packing flow where the operator does not need to move or carry large objects. Likewise this is often coupled with some materials handling equipment.
Materials handling integration
The introduction of some materials handling aids, could serve to bring products to the packer and take finished parts away. Leaving the packer to pack products efficiently.
The addition of materials handling is often an aid to reduce manual handling injuries.
Packing materials and equipment
Storage of packing materials and equipment should also be taken into account to ensure the workstation is fully stocked for the workload of the packer.
IT Equipment and ancillary items
Often when purchasing packing table, a standard packing station or table is purchased on a cost basis.
It is only when all them items you require are put into place are the inefficiencies highlighted.  When in reality most of the usable working space is taken up by equipment before you even start packing.  With this in mind, we suggest that preparation is vital before you commit.  Look at your options.
Summary on packing station design
The final design of your packing station usually ends up with compromises that make you choose between a series of options. Spaceguard can work with you to develop a bespoke solution for you which suits your business.
For all enquiries please contact our sales team
Phone: 01482 363445
Email: sales@spaceguard.co.uk
Packing station accessories