Spaceguard are a UK manufacturer of bespoke packing benches.With 10 years trading and over 30 years experience in engineering manufacturing from our Hull based factory's we are able to take your ideas from concept to completion fully welded, fully assembled ready for work, durable packing benches.
From a 'one off' bench. To large distribution centre fit out. Spaceguard are an ideal partner for your standard and bespoke packing benches. Please contact our sales team to discuss your individual requirements. Phone: 01482 363445.
Well-presented packages and parcels give an important first impression for any company.
Spaceguard manufacture packing benches and packing stations to ensure your products are able to be packed on equipment specifically designed for the task. This not only helps improve package quality also having packing benches designed and manufactured specifically for your products shows real improvements in productivity.
Accessories Include packing aids, materials, product weighing, cutters, waste handling, choices of worktops. Along the all important IT Equipment.
Spaceguard supply packing benches to fully automated packing station systems. All designed to save you money and time. Ensuring your packers have all the correct products they require at the right time.
Using 3D design Spaceguard are an ideal partner for storage, picking and packing products. All our packing benches are designed and manufactured in the UK.
With the extensive range of accessories workstations which can be built to a detailed specification for an exact task, along with continually modifying to meet changing requirements. Workplace efficiency is further improved when the workstation, or bench. Is constructed integrating ergonomic principles.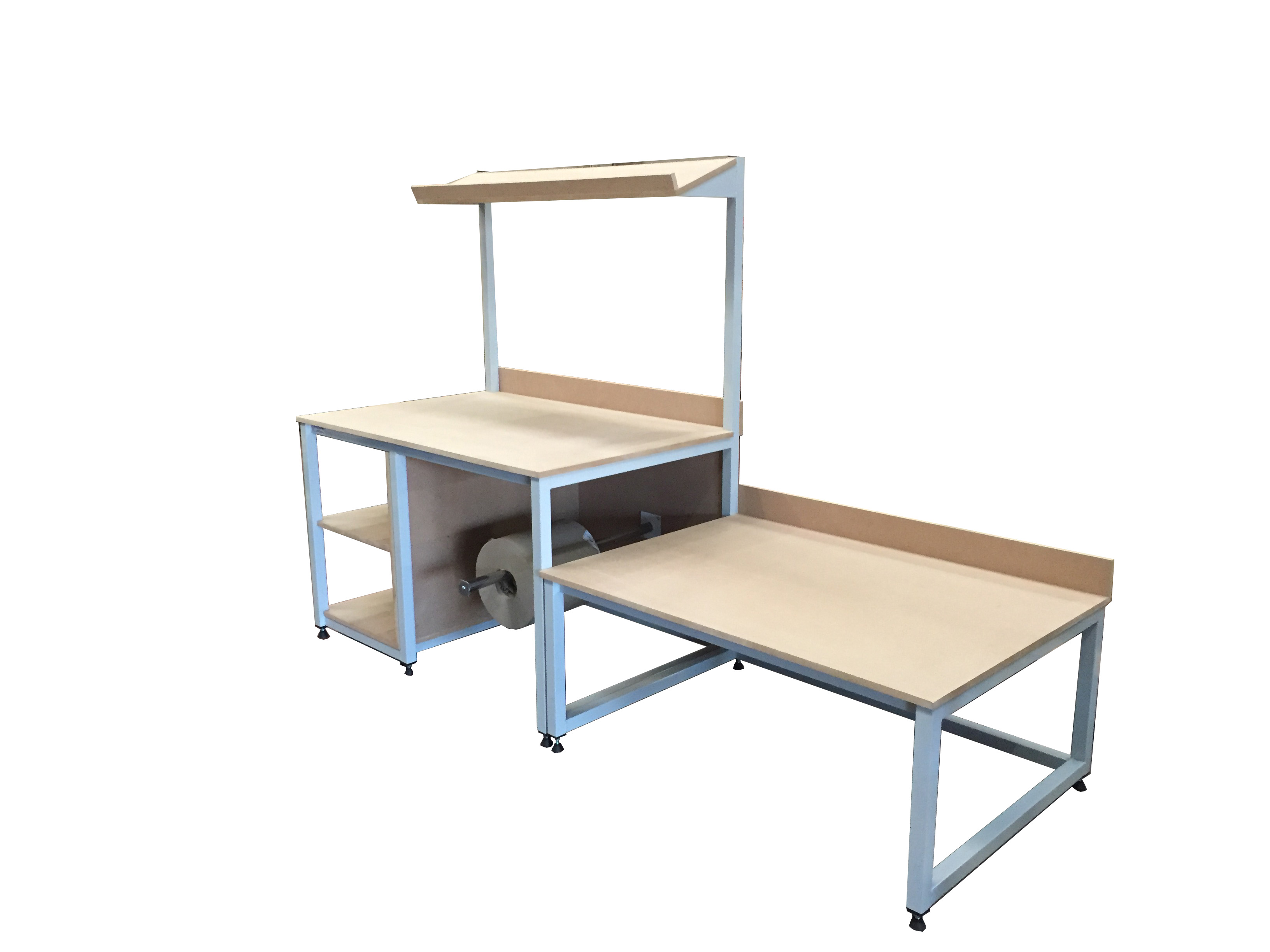 Types of Packing benches
Free standing standard packing bench.
Free standing bespoke packing bench.
Mobile / portable packing bench.
Heavy duty packing benches.
Packing station / workbench – can include storage.
Single / double sided workbench workstation / workbenches.
product flow work cell.
Please contact our sales team to discuss your applications : Phone: 01482 363445 email: sales@spaceguard.co.uk
Order standard packing benches online
Designing efficient Packing Benches
Designing a packing bench. Which suits your specific requirements will bring real productivity savings.
While most packaging benches are similar in function. Every packaging bench has its own set of issues. Sometimes within the same companies packing and despatch departments. The workstations vary because of the scope of the functions required for that particular process.
Packing benches are sometimes the answer. However it is a common error to purchase a standard packing bench, based solely around the storage and minimum costs. Maximized efficiency comes from integration of the pack bench into the company's IT order fulfilment and material handling system.
Looking at order fulfilment. From the point of view of the packaging function. Creates additional efficiency and productivity by reducing extra movements. Eliminating duplicated workloads, and handling the product fewer times. By incorporating all aspects not only improves productivity. It also improves package quality and most importantly will save money.
Packing bench operational overview
Many packing benches and workstations have different needs. Whether the workbench is simply used for packing, part collation, carton addressing, quality control, or team leader functions, each function requires different layouts, equipment and has differing IT needs.
Workbench workflow
Defining the operational workflow and with give you an idea of the needs. So consideration can be made for all the functions required. This can then be laid out into a ergonomic working model. "A well designed workspace will eliminate additional handling. Improve quality and improve productivity. Along with having provision for IT equipment."
Generally the most efficient packing is a straight line packing flow, where the operator does not need to move or carry large objects. This often is coupled with some materials handling equipment.
Materials handling integration
The introduction of some materials handling aids. Could serve to bring products to the packer and take finished parts away. Leaving the packer to pack products efficiently. The addition of materials handling, often is also an aid to reduce manual handling injuries.
Packing materials and equipment
Storage of packing materials and equipment should also be taken into account. To ensure the workstation is is fully stocked for the workload of the packer
IT Equipment and ancillary items
Often when purchasing packing table. A standard packing station or table is purchased on a cost basis. It is only when all them items you require are put into place. Are the inefficiencies highlighted. When half of the usable working space is taken up by equipment. Before you even start packing.
Summary on packing bench design
The final design of your packing bench. Usually ends up with compromises, that make you choose between a series of options. Spaceguard can work with you to develop a bespoke solution for you. Which suits your business. From concept to completion. Our team of experts are available to discuss. Or visit where required to find the best possible solution. Which show real gains in productivity and quality. Please phone : 01482 363445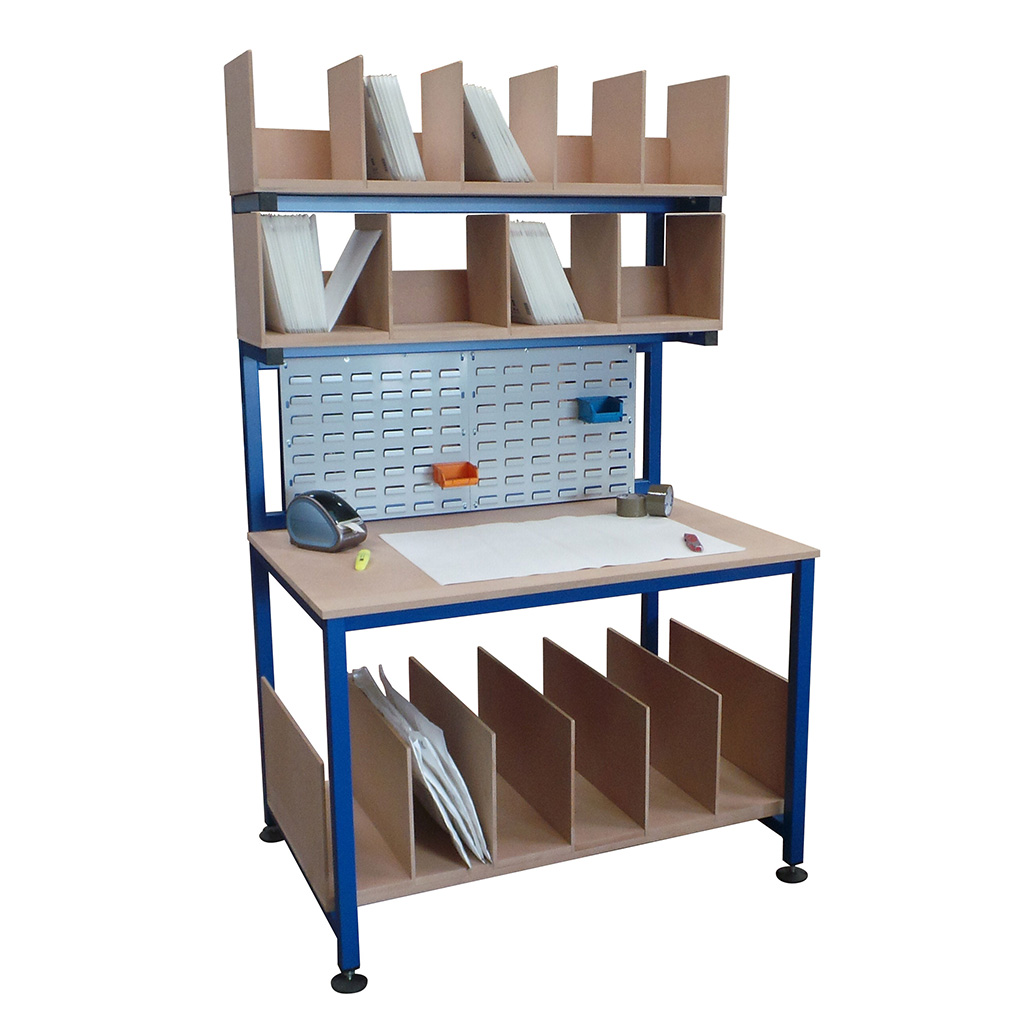 Spaceguard is an ideal partner for your workstation requirements. Please contact our sales team to discuss yours: Phone: 01482 363445 or email: sales@spaceguard.co.uk