We may not have exact photos of every configuration possible but this doesn't mean we can't manufacture it.
This simple guide outlines all of our modular accessories, what is available on our tables, and how they can be adjusted to make sure you get the perfect packing station solution to suit your needs.
Many of our products can be customised, but we also manufacture fully bespoke packing tables.
Should you need any help, please don't hesitate to contact us.
Need Help? Contact us
Experienced UK Manufacturer
All products delivered fully assembled & ready to use
Wide range of options & accessories
Helpful sales & support teams
| Length (mm) | Width (mm) | Height (mm) |
| --- | --- | --- |
| 1200 | 600 | 850 |
| 1200 | 750 | 850 |
| 1200 | 900 | 850 |
| 1500 | 600 | 850 |
| 1500 | 750 | 850 |
| 1500 | 900 | 850 |
| 1800 | 600 | 850 |
| 1800 | 750 | 850 |
| 1800 | 900 | 850 |
| 2000 | 600 | 850 |
| 2000 | 750 | 850 |
| 2000 | 900 | 850 |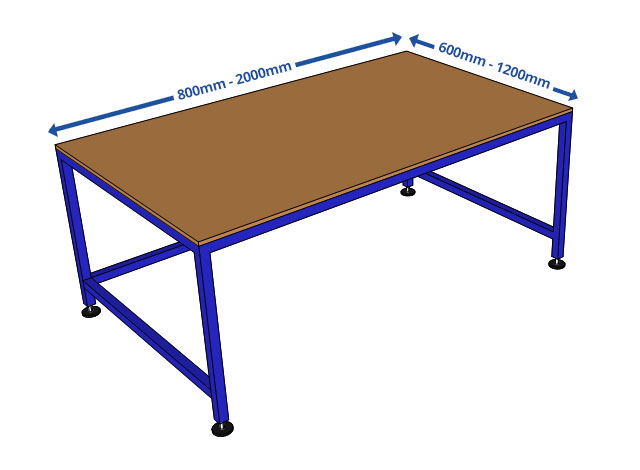 You can buy tables of these sizes on our website
However, any size can be achieved as we can manufacture to order.
The height is 850mm to the top of the table as standard, this is further adjustable +/-50mm by the adjustable legs.
Table Top Materials
| | |
| --- | --- |
| MDF | Standard Material, suitable for many packhouse environments. Natural or varnished 18mm, 25mm, 30mm thick MDF. |
| Laminate | Similar in appearance to kitchen worktops, better finish and higher quality surface. 1.3mm laminate bonded to 18mm MDF core with matching edging. Wide choice of colours available. |
| Linoleum | 2mm Linoleum bonded to 18mm MDF core, wide choice of colours available. |
| Anti Static (ESD) | Suitable primarily for assembly environments when working with delicate electrical components. Laminate with static dissipative resistance to ground. |
| Mild Steel | Mild steel tray steel bonded to 18mm MDF with all edges turned down and welded. |
| Stainless Steel | Ideal for food and wash down environments. Tables can be fully manufactured from stainless steel if required or stainless steel bonded to 18mm MDF with all edges turned down and welded corners. |
| Melamine | Melamine laminate is a cost-effective, material to provide colour to worksurfaces. The durable finish also provides a level of protection against scratches and the water. |
| PVC | PVC is a soft plastic material used to provide a clean workbench surface with some cushioning. |
| Polyethylene | 20mm thick polyethylene available in white or red. |
| Vinyl | 2mm vinyl bonded to 18mm MDF, wide choice of colours available. |
| Cutting Mat | 5mm self-healing cutting mat bonded to 18mm MDF core. |
| Plywood | 20, 25 or 30mm thick plywood available natural or lacquered finish. |
| Block beech | Natural 40mm block beech. |
| Wood | Timber benches have options for Ply or 44mm Hardwood. |
Lower Shelves
For additional storage underneath the main table. This can be the same size as the main surface or a custom size, perhaps only half the table depth or only half the width of the table. The heights are generally the same as it rests on the main table frame however if requested the height can be flexible.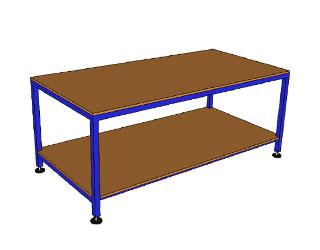 Upper Shelves
For additional storage above the main worktop, this shelf is normally supplied at 300mm deep as standard and runs the length of the table but this may not be suitable depending on how deep the main table to still be reachable. The height of this shelf is also customizable depending on what you need, what the shelf will be storing, who will be working at the station or if they will be stood or sat.
Our shelving options are independent of each other and can be supplied in almost endless combinations to suit your packing station requirements.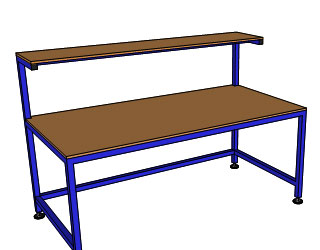 Packaging Roll Holders & Cutters
Lower Roll Holders
This holder sits below the table top and holds various packaging material rolls such as bubble wrap and paper. The height on this can be adjusted to suit your requirements and easily detachs to allow simple roll replacement. As standard the roll is the length of the table but smaller lengths can be supplied to allow cupboards or drawers to sit beside the roll.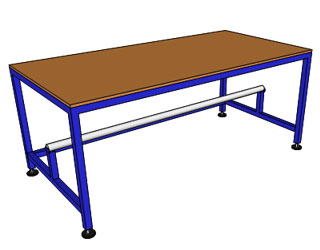 Upper Roll Holders
Alternative mounting position to the lower roll holder, ideal if under desk storage is lacking. Can also be used in conjunction with lower holders to support multiple reels. Combining with our cutter makes this set up an ideal packing station solution.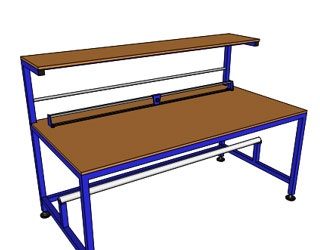 Table Top Cutters
Our newly redesigned and improved cutter sits neatly at the back of the bench. Ideal with one of our roll holder options simply feed the roll up the back of the table, hold it in place with the weighted bar and cut your packaging material to ideal lengths. Typically spans the full width of the table but shorter sizes can be manufactured to suit.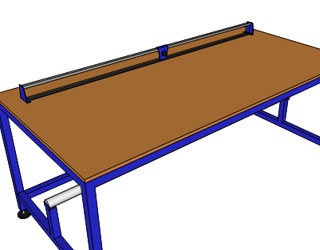 Storage & Organisation Options
Drawers
Drawers can be positioned under the table for the storage of loose components or small tools. Our modular pricing is for 1 drawer but it is possible to have multiple drawers. They can be positioned on either side (or both if required)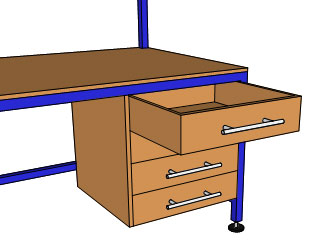 Cupboards
Cupboards can also be supplied and positioned neatly under the table top giving your packing station additional storage capabilites. They offer improved storage solutions over drawers to holder large components or tools. They can also be positioned wherever you require, under either side of the table or a combination of both.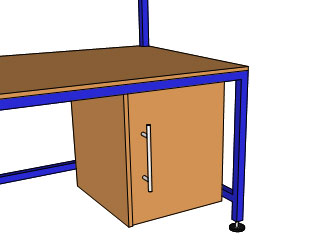 Louvre Panels
Sit along the back of the bench to support lin bins or various hand tools. We currently offer a standard size singular louvre panel and support rail, the height of this can be customized to suit your requirements. We can attach this panel to either side of the table or we can attach multiple panels to go across the entire width. Again the choice is up to the customer.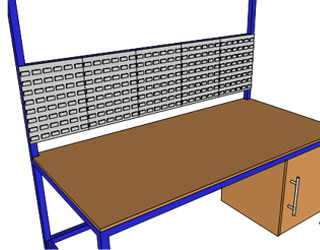 Twin 13A Sockets
This socket island sits neatly at the back of the table top allowing you to plug in tools or electrical equipment you may be testing or working on. The price is for a single twin socket island however multiple sockets can be supplied if you require more. As standard we generally leave them at the back in the centre but they can be attached anywhere on the bench that you require.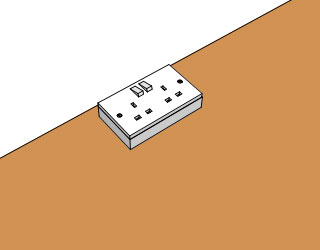 Bench Top Trunking
A slightly more expensive solution to standalone electrical sockets for a much tidier finish. White PVC angled trunking sits flush along the back of the workstation housing a conveniently placed twin electrical socket. similar to to standalone islands multiple sockets can be installed at an additional cost allowing more equipment to be powered.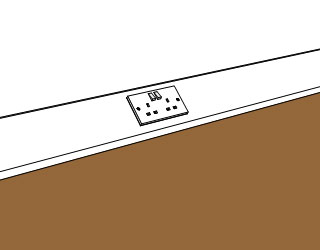 Lighting Rails
Lighting Rails work well combined with an upper shelf due to easily extending the shelves frame support. They can of course be provided as an individual accessory to your table. The price includes the support bar and light fittings while the switch is attached to the upright support. Again with all our modular accessories the height of this bar can be set exact to fit your requirements to offer maximum lighting efficiency to your workstation.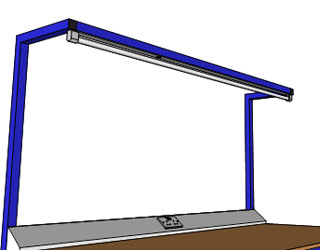 Contact Us For A Free Quotation