Packaging material cutters - UK manufactured by Spaceguard
Spaceguard manufactures packaging dispenser and cutter (ideal for card, paper, film & bubble wrap cutter) combined as a stand alone unit. The cutting mechanism is similar in design to the table top bubble wrap cutter found on Spaceguard packing tables. Ideal for both bubble wrap/cardboard roll or other packaging materials (like our table cutters). This product comes fully assembled and ready for work.
For all enquiries please contact our sales team
Phone: 01482 363445
Email: sales@spaceguard.co.uk
Cutter Specification
Frame Detail: Welded Mild Steel Construction
Frame Finish: RAL5010 (Royal Blue)
Assembly Details: Fully Welded & Ready to use
Cutting detail: durable replaceable rotary cutting blade
Suitable for cutting:  Bubble wrap (Small and large bubble), Cardboard, Paper, Polythene, Foam, Film, Vinyl, Adhesive tape, Some fabrics
Please contact sales for further details.
Benefits of using packaging cutters
Increasing operator safety - reducing use of knifes
Increased cutting efficiency
Raising worker morale
Improved cutting aesthetics
Large Format Bench Mounted Packing Material Cutters
Spaceguard manufacture a range of large format bench mounted packing material cutters, up to 3 metres wide. Ideal for shrink film, sign making or cutting tables. The safe bench mounted cutters reduce the requirement of scissors and knifes within the work area taking a lot of the potential risk from everyday usage.
Please contact our sales to discuss your needs.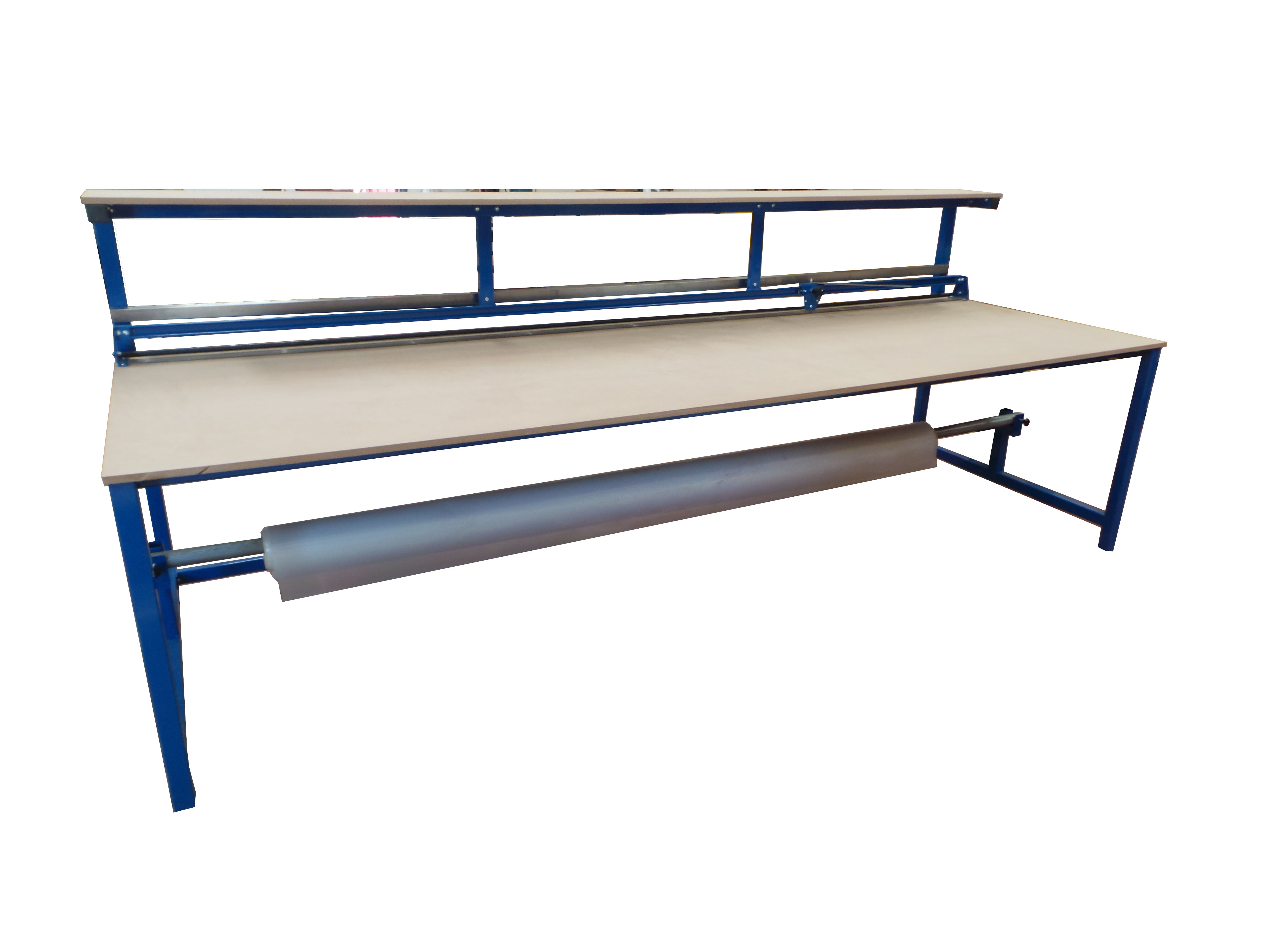 Buy Packing material cutters online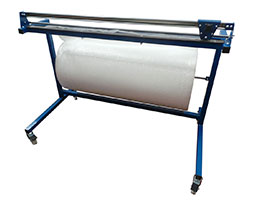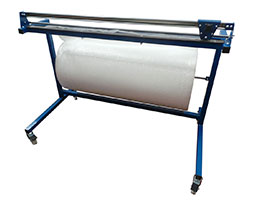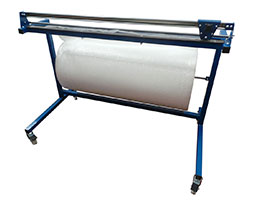 Bench mounted packaging material cutters
For mounting to existing workbenches. Ideal for the safe cutting of bubble wrap and cardboard packaging rolls.

Wall mounted dispenser with integrated cutter
When floor space is at a premium. The Wall mounted packaging material dispenser and cutter is an ideal solution. For provide roll storage and safe cutting of bubble wrap and cardboard packaging rolls.

Dual Roll Dispenser with integrated Dual Cutter
When using more than one packing material at any one time , it can easily become unorganised and crowded. Dual roll dispensers with integrated cutters solve this problem by accommodating two rolls of packing material on one stand, automatically saving space and improving productivity and safety.
Ideal for use alongside a packing bench, introducing a dual roll dispenser to your packing area helps to improve throughput and ensures all products are wrapped in a consistent and cost effective way.
Manufactured from fabricated steel, with a durable powder coated finish this product is an ideal standalone solution,
Available in 3 different widths, 1000mm 1200mm and 150mm
Swivel lockable castors can be added (costs may incur)
Uses a rotary cutting blade onto a hardened steel cutting edge
Spaceguard are an ideal partner to manufacture robust fully assembled ready for work packing benches and stations to your specifications. Including product automation products such as belt and roller conveyors, all from our UK based manufacturing site.