Over conveyor workstations change simple transport conveyors into beneficial assembly, packing or testing spaces.
These workstations are designed to provide access to tools, equipment or packing materials without obstructing or impeding the transport stream. This turns a simple conveyor into a fully functioning assembly or process line.
Where conveyor workstations are utilized, it permits simple, ergonomic access to the transport line without consuming floor room and enhances any transport operation.
Our conveyor workstations can fit directly over any new or existing, belt conveyor or gravity roller conveyor and are designed to suit the specific operation carried out.
With storage and information for the operator and a better ergonomic position, business owners receive higher productivity with minimal investment.
We manufacture conveyor workstations fully bespoke so please contact us with your requirements.
Phone: 01482 363445
Email: sales@spaceguard.co.uk
Need Help? Contact us
Experienced UK Manufacturer
All products delivered fully assembled & ready to use
Wide range of options & accessories
Helpful sales & support teams
Conveyor Workstation Specifications & Options
Conveyor workstations help to organize product flow, maximize floor space, stimulate organization, boost productivity, raise worker morale, and improve facility aesthetics.
The conveyor packing workstation fits directly over your conveyor, providing the operator with exactly what's needed.
Components can be added to suit your application
Fully welded construction
Supplied fully assembled ready for work
These are great bespoke products to improve packing and assembly productivity, all workstations are manufactured to order and produced in our UK factory
Please see the Spaceguard Conveyors site for further details on our services.
Why use Conveyor Workstations?
Assembly conveyor workstations keep tools and components close by for when you need them
An assembly conveyor workstation can include parts storage, additional workspace, overhead mounted tool rails, IT equipment, shadow boards or tool pegboards.
We design over conveyor assembly workstations to suit your process.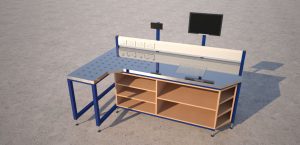 Transform wasted space into productive packing, assembly, or testing workstations
The conveyor workstation can be added over the top of an existing conveyor to provide ergonomic access to materials and equipment without affecting product flow
This improves most conveyor operations by allowing easy workstation access without taking up valuable floor space.
For this reason, over-conveyor workstations are great for areas where space is at a premium.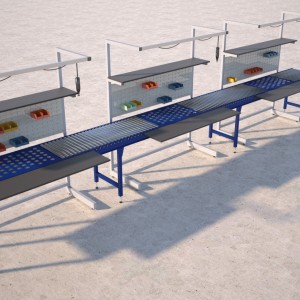 Packing conveyor workstations save space & improve packing speed
Packing conveyor workstations can include packing material storage both under and over conveyor.
Packaging roll cutters are a good way to improve safety in the packing area, we can also include IT equipment including label printer and barcode reader mounts.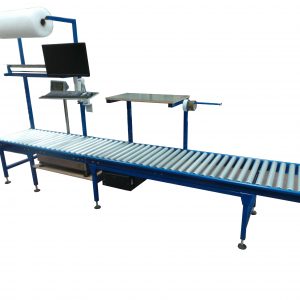 Contact Us For A Free Quotation
You might also be interested in...