We offer a complete installation service for our equipment where required
Our installation team are also part of our production staff, they understand our products inside out which makes them fast and efficient for all product installations. 
Many of our projects are fully bespoke and therefore require installation by our skilled on-site team.
Please take a look at the photos below to give you an idea of how the installation process works.
For all enquiries please contact us
Phone: 01482 363445
Email: sales@spaceguard.co.uk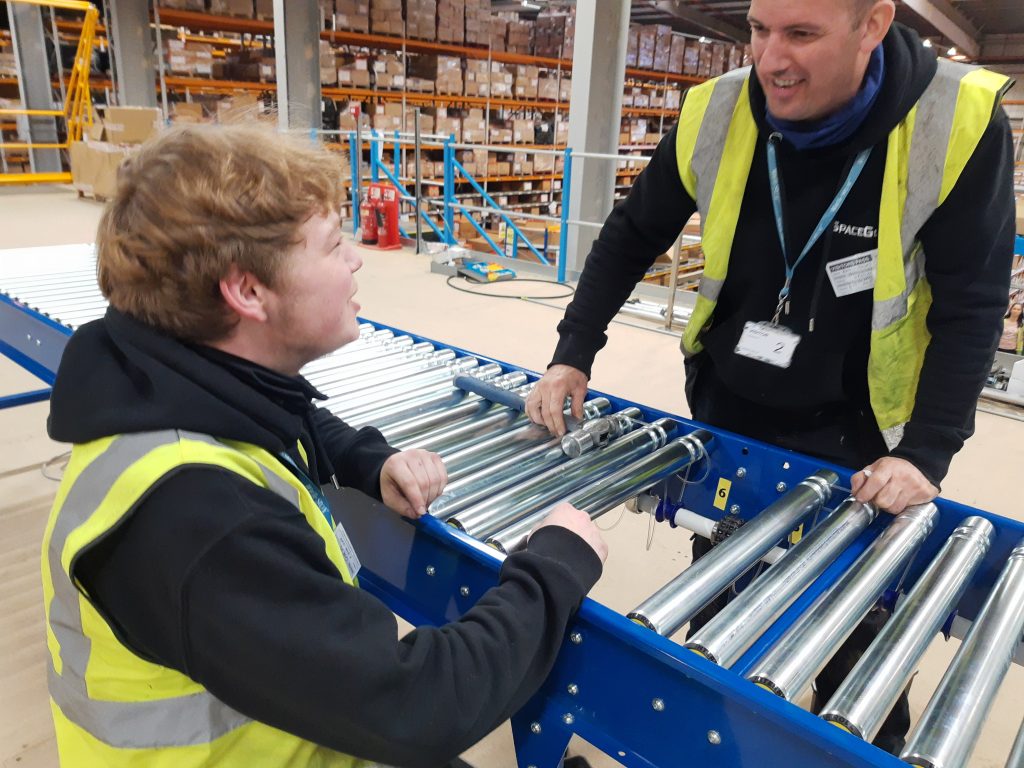 Packing Conveyor System Installation
We had the pleasure of installing 20 stunning Bespoke Packing Tables with a central belt conveyor that covers 65 feet, with a 19ft out-feed roller conveyor.
This clearly showcases the possibilities for streamlining and improving your distribution. This way you can stay ahead of your competitors, increase productivity, reduce manual handling, and reduce product damage.
Lineshaft Roller Conveyor Installation
Have a look at our recent installation into a leading high street fashion warehouse including a lineshaft roller conveyor and packing tables.
Classroom Tables Installation
As can be seen, our installation team are fitting the tops to the frames and levelling all the tables ready for use.
Notice these tables have swivel lockable castors.  Another key point to remember when thinking about the design of your table. Ultimately these tables look amazing.
Flower Packing Conveyor Installation
An amazing installation into a major flower distributor within the UK.  It features 3 Belt conveyors each measuring 49ft. These were installed by our team ready for immediate use. In order to increase productivity while reducing manhandling.  With the intention of reducing damage and increasing distribution time.
Educational Workshop Equipment Installation
Education Installation
Another educational installation by Spaceguard, in the frequently popular grey frames and white melamine tops.
In conclusion, these tables look amazing.
Additionally have a look at the heavy-duty storage desks fitted with engineers vice.
Belt Conveyor Packing Line Installation
This installation demonstrates the usage of both belt and gravity conveyor.  Summing up how they compliment each other. This one was for a hamper distributor and uses the Gravity bend to the best of their advances to enable their goods to transport around the bend / corner with ease.  Thus reducing man handling and product damage.
Belt Conveyor Installation
Additionally how do you like this installation for a leading garden grower and distributor.
These photos show how belt conveyors can be linked and fed into each other and onto packing stations and ball transfer tables.
Hospital Kitchen Conveyor System
As shown below, these next photos show you our installation into a kitchen in the healthcare sector.
Under these circumstances, a Food Grade Belt is used.
Electrical Assembly Conveyor System Installation
These colourful tables are suitable for electrics and luckily so as these were installed into an electrical warehouse.
Contact Us For A Free Quotation