Spaceguard is a key manufacturer of packing tables and assembly benches for over 10 years coupled with over 30 years experience within engineering, including gravity, belt and modular conveyors, ball tables, transfer tables and packing tables.  Spaceguard supplies various industries including on-line retailers, contract packing, electrical assembly, catalogue sales and automotive to name but a few.
Packing tables and benches by Spaceguard are individually manufactured from welded mild steel then powder coated to a finish to give you a robust  and reliable operation suiting the changing needs of your business.
With this in mind, we take as much information as possible to determine the suitability of our products to you and your requirements.  To say nothing of the vastly increasing demand put upon us all by Covid-19 and the lockdown restrictions.
In order to provide you with the right quotation, we would need information about your products, sizes, weights, that sort of thing.  With all of this in mind, and pending your requirement, we can provide you with a render drawing of the Production System your looking for.
For example:  Examples showing – Gravity Roller Conveyor feeding into and out of Packing Benches
A. Packing Benches.                                                    B. Packing Benches with Gravity conveyors                    c. 90 degree bend Packing line.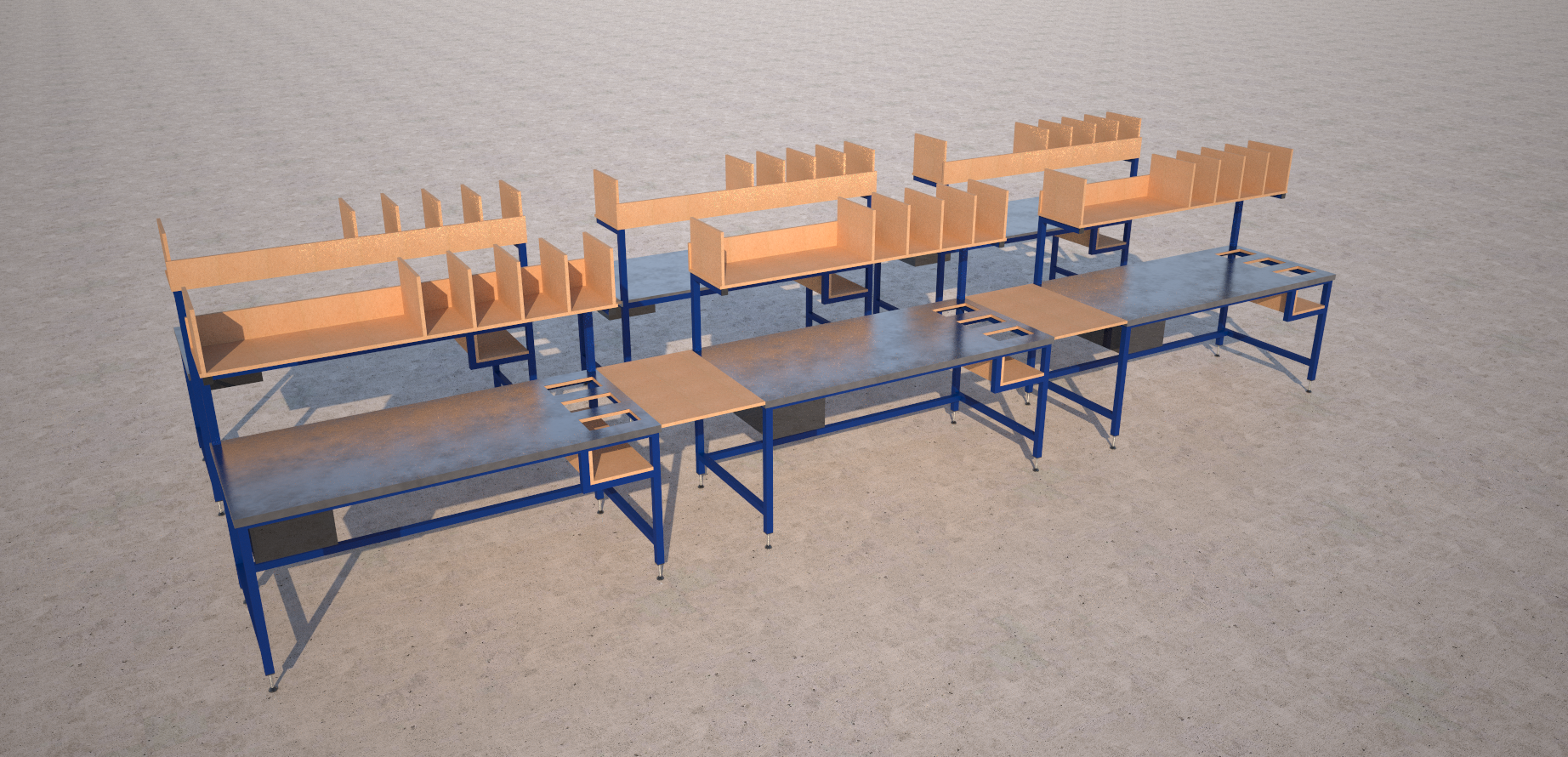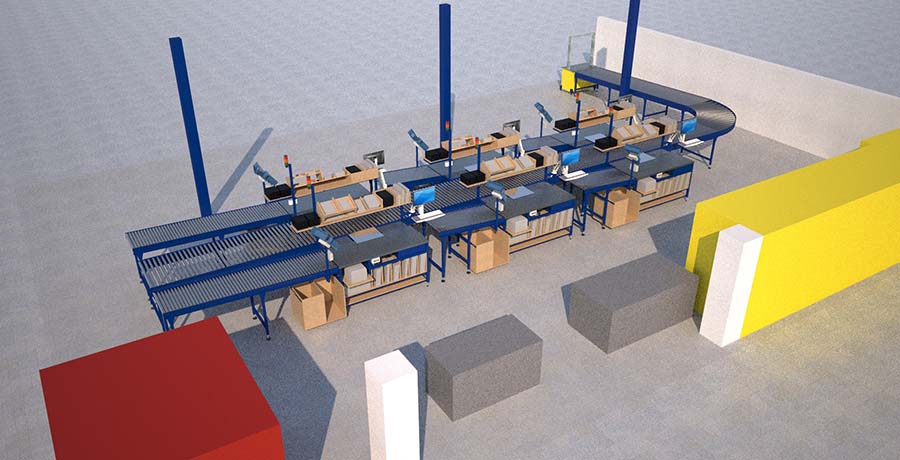 Why buy from Spaceguard ?
Alternatively take a look at our Gallery for more ideas. Spaceguard Ltd Gallery.
Our expertise
Leading the way in Spaceguard is Neil Ellerby, our time served engineer and Managing Director.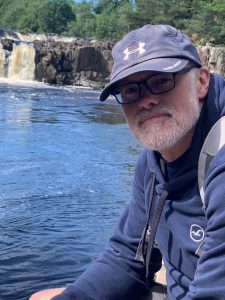 Neil has been in the conveyor industry for most of his working life.
Starting his journey as an apprentice at Logan Fenamec  and is now leading his team here at Spaceguard Ltd.
Neil's reputation has vastly grown within the industry.  Assisting with streamlining the production & distribution systems of any company and is highly sought after and highly respected within the industry.
When Neil isn't working he will always be found near water. His passions in life are whitewater kayaking, open swimming, surfing, kiting, sailing, not to mention the skateboarding and cycling.
Why buy from Spaceguard ?   
Buy British. Buy quality products.  Stay local.  Lets support each other.
Meet our Team
 Design team. 
Lead by John, who joined our company within the wed design department.   Then found his unique gift in designing and drawing our packing benches and work benches.
Together with the sales team he manages and incorporates the design ideas from customers, also corresponding to our production staff.
Of course by providing our customers with unique and individual render drawings of their products, process & assembly ideas hopefully make us stand out to our competitors.
Another key point to know is all our packing benches and work benches are hand made to order to your specifications.
Equally we pride ourselves on our quality and customer service.  For comparative reviews, see what our customers say about us.
Have a look at our gallery for some ideas.
Sales Team
Our sales team is as unique as Ellie is herself.  Leading our sales team is of course Ellie.  Most of you will have contact with Ellie, who is highly regarded and well liked with all our customers and suppliers alike.
With more than 10 years experience within this industry Ellie has a huge bank of knowledge to assist in any design ideas.  As a matter of fact Ellie has designed quite a few layouts for our customers.
With this in mind, Ellie will ask for as much information as possible.  Be patient and be kind.  The more information we have, the easier it is to help you.
The information required would be : – Your products. Dimension.  Space.  Accessibility.
With the intention of being able to offer you the best possible options to assist with streamlining your business.
Packing benches and work benches come in all shapes and sizes.  Various colours are available.  This year we have seen a huge rise in anthracite Grey.  And the Cutting Tables look fabulous in black.
Our conveyors come in standard Blue Ral 5010.
Modular Packing Table Range
Here at Spaceguard we use only the highest quality materials and components in all our of products to ensure a solid, robust and durable packing table suitable for any industrial application.
Our standard colour (which is applicable to any table with a mild steel box section construction) is RAL 5010 – Royal Blue, in a durable powder coated finish, within reason however any colour can be used to give the required finished (additional costs may incur)
Our tables are fully welded (aside from our flat pack range) or fully assembled where required and will be delivered to your site on a pallet ready for immediate use.
Worktops Available
MDF (10mm, 18mm or 30mm typically)
Hardwood
Plywood
PVC
Laminate (similar to kitchen worktops)
Vinyl
Nylon
Steel
Stainless Steel (Grade 304)
Polyethylene (Food Grade)
ESD (Anti-Static)
What else do we do?
Spaceguard manufacture a full range of automation equipment and workstations ideal for use in the food industry including: See out main page for more information.
Stainless Steel and Meat Processing Tables
Rotary Accumulation tables
Complete Workstations integrating numerous products into one bespoke product
Why choose Spaceguard?
Manufactured in the UK
Quick Delivery
Quality Assembly Bench products
Great Prices
Dealing direct with the UK manufacturer
Supporting a family run business
Buying British products