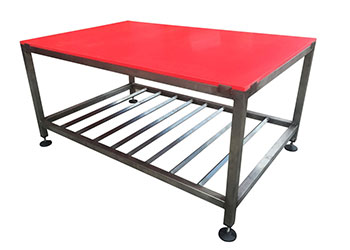 Designed to withstand the daily use within the meat and poultry industries, Spaceguard Meat processing tables are designed to industry standards, using quality food grade materials, all our tables are fully welded and ready for immediate use. Spaceguard manufacture both bespoke tables to your specifications along with a standard range of more popular sizes listed below for easy online ordering. Alternatively please contact our sales team on 01482 363445 or email your requirements sales@spaceguard.co.uk and we will respond with a competetive quotation.
Developed to withstand the beef processing industry and manufactured using stainless steel (grade 304) box section these tables are topped with a stainless steel or 20mm thick red polyethylene worktop which makes them an ideal choice for meat and poultry processing, the durable finish on the polyethylene is suited for the daily wear & tear from bones, blades and other sharp tools.
Working closely with our customers Spaceguard is able to offer bespoke or modular solutions for meat processing workstations. All suitable to withstand the daily use whilst also suitable for washdown, with removable tops etc where required. Spaceguard can also offer a range of robust food grade conveyors, suitable for meat processing and daily wash down. Please contact our sales to discuss your individual requirements on 01482 363445 or email sales@spaceguard.co.uk .
Standard meat processing tables : Included in the base cost of these table is a lower shelf (manufactured from stainless steel rails) however this can be replaced with a solid shelf if required. We can further modify these tables with castors for increased mobility or incorporate cutouts into the worktop for improved drainage either from the cleaning process or for waste removal
Please note that these are only our standard sizes available online, for further customization please contact our sales team as we can manufacture sizes to your exact requirements
Standard Specification for Meat processing tables
Frame Material: Fully welded Stainless Steel (Grade 304)
Frame Finish: Stainless Steel
Table Top: 20mm Red Polyethylene or stainless steel
Assembly Details: Fully Welded, ready for use
Accessories Included: Height Adjustable M16 Feet, Lower Stainless Steel railed shelf
Standard Meat Processing Tables available for online ordering